the timeframe that bell used the signpost stamp?
not in the mood to wander around online tonight…lol
thanks
I thought I had an answer for you because I did some research on Fred Harvey a while back. The only thing relevant was . Bell Indian Trading Post started in 1932. Maisels was his biggest competitor so Bell and Maisel merged in 1935. I bet that didn''t help but I wanted to pass it along.
I ust came across my originalresearc. I think this will be more helpful…
"According to a reader who researched the trademark records, the mark "Bell Jewelry" was first used in 1935.
The "Arrow post hanging bell sign" was first used in 1961.







When the name changed to Sunbell, this is the hallmark often used.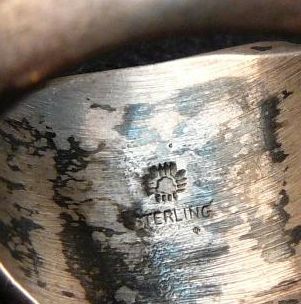 February 2019
I originally wrote this article in 2011 but just updated it after receiving a note from Jacquelyn Michelson: "As the Daughter of Jack and Mildred Michelson you are incorrect in your facts about the Bell Trading Post. It was never called Bell Trading Company and Bell never merged with The Maisel Company in 1935. They remained fierce competitors until the 70's when Sunbell Corporation bought the Maisel Company. Please correct your facts. Thank you".
So I thanked Jacquelyn for taking the time to write and I have corrected the errors in my article and added more information and photos courtesy of Jacquelyn. I'm so glad she wrote, how else would I have known !!
I now want to share with you some references that I had used originally and that I dug out again today as I rewrote this article. I am including them all so you can review the information and draw your own conclusions. As is often the case, things aren't always black and white.
An article online entitled Bell Trading Post, Albuquerque, NM (1932 -1969)'
Here's the url
Thank you for the update.
I recently found this article, that shows a wholesaler catalog/order form Bell sent.
It promoted Nickel silver jewelry.