I found your mark at a hallmark site. However, they are looking for info too. I'm attaching a screenshot. Good luck.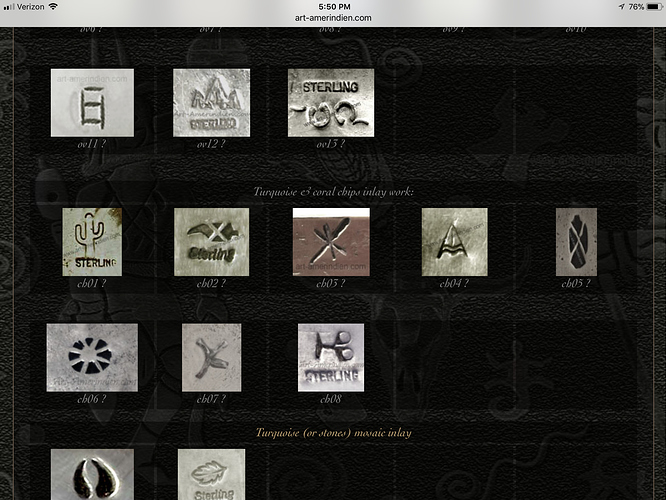 Yes, I know the site. Hmm, we may never know.
Thanks
Don't give up hope. I posted one of my favorite pieces that was also on their unknown list. About six months later someone jumped on who knew the maker. He had been a friend and partner of her Dads.
do you have any information on the bracelet, where it was purchased, is it new?
No, unfortunately I don't.
It's beautiful. Enjoy wearing it.
How I wish we knew who this was. I know this mark; I've seen it many times while looking at a particularly good piece of chip inlay. The quality of design with this maker is very high. In fact, I think of this as the Gifted Unknown Chip Inlay Artist. There are wider, more complex cuffs by this person that can stand alongside the best chip inlay I've seen.
writing "feather hallmark" here incase I run across some info and want to find post again : )
To me, your first image looks more like a crossed out chile pepper than a feather.
Perhaps another person allergic to capsicum?
Me too, until it was mentioned, I never got anything in my mind about a feather, it was always a chili pepper I saw.

Jumping on the band wagon, I think it's a chili pepper. Maybe the artist is of New Mexican origin?