I was at a Pow Wow yesterday and fell in love with this bracelet. It is so delicate and actually fits my small wrist.
The vendor said his Uncle was Leonard Begay from Chinle, AZ. His Uncle and some of his friends make jewelry items and send them to him to sell at Wisconsin Pow Wow's.
This bracelet was attributed to Leonard, but the vendor said there was no Hallmark on it. He said that sometimes his Uncle does not use a Hallmark.
I noticed it did have a Hallmark after purchasing. It was a C.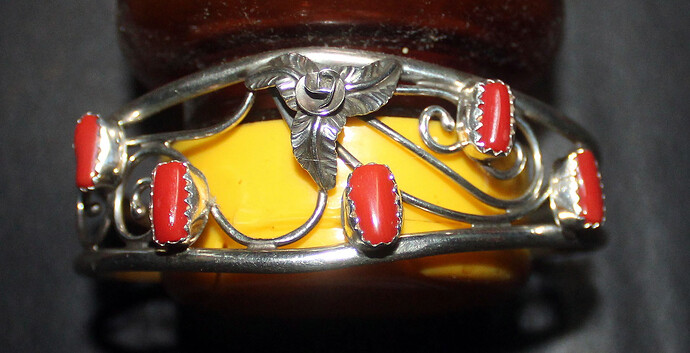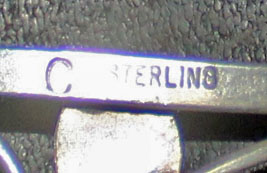 After a little research, I found some similar bracelets with a C mark that is attributed to Calvin Spencer, Navajo.
One said the following in the description:
Vintage from the 1970s.
It was almost identical to my bracelet.
At a vintage shop on Etsy.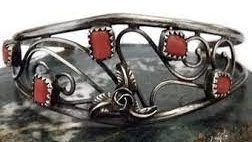 Another had Turquoise and not coral. Listed as pre-owned on Ebay.
Attributed to Calvin Spencer.
Both had the rose and leaves on them. Bith had the same C Hallmark.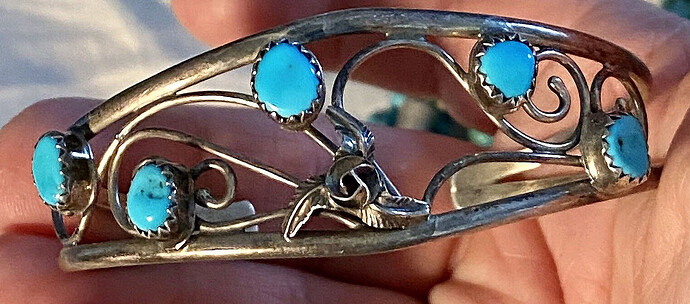 Based on this info, I think my bracelet was made by Calvin Spencer.
I could not find any bio info on him.
If anyone knows where I might find bio info, I would appreciate it.
Also, wondering what a fair price would be for a new bracelet like this.
The used ones above were listed for much more than what I paid.
Most of the Pow Wow's in Wisconsin have very strict standards for vendors. One must be Native American. You must sell items that are Native American themed and/or made by Native Americans. Often, most of the items offered are jewelry, accessories and clothing worn by dancers at Pow Wow's.
Thank you.