Does anyone know the maker of this buckle that is stamped E E E?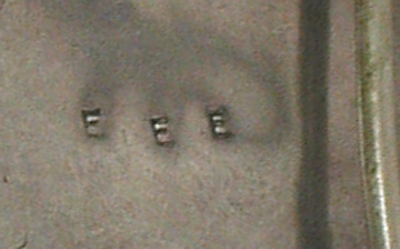 I have been unable to locate any artist referenced with that mark.
a GOOGLE REVERSE IMAGE SEARCH ← result brings up many other similar designs, some with artist signatures that can be identified, some that can't & some just blank unsigned.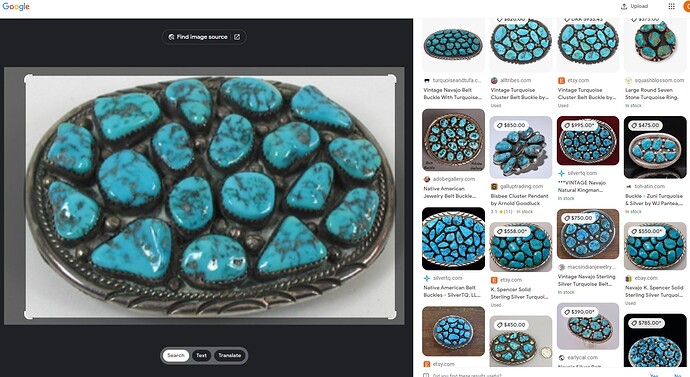 I have seen silversmiths stamp items several times. Could this be an "E" struck three times? The lowest _ of the E looks similar to the online Randall Endito (Navajo) mark. Could use a much better photo of the mark. Just a wild guess on my part.
So many Indigenous artists remain unknown or unreachable since they sell their creations through shops or privately. I would like to see an Indigenous artists and silversmiths guild or similar. It would really help in identifying pieces without having to rely on a shop to pick our pockets for their "opinion" in some instances I've seen online. I'd rather donate a fee directly to the NA silversmiths. (Just my opinion)

I am however grateful for those that have published reference books and those that have placed online references.
Fort Wingate Silversmith Guild was created in 1939
Hopi Silver Craft Guild 1949
Navajo Arts and Crafts Guild 1941
Zuni Craftsmen Cooperative Association 1967
UNITED INDIAN TRADERS ASSOCIATION 1931
source: Hougarts 5th edition
Thanks @Steve. Do any offer hallmark ID services?
I have not dug that deep into that rabbit hole.
Maybe Kenneth Etsitty, struck three times.
This is the only EEE I could find. No maker attributed, but…
Good detective work. Now to find the maker.