I am confused by your title; you say you found this in your yard? Where do you live? You're trying to figure out if it's real?
If it wasn't for the yard piece I would say this is not turquoise and some type of reconstituted material.
Hello,
Please do explain your thread title, so we can better understand what you're saying.
Regardless of where it entered your life, I believe it's what @Jason has said.
And what do mean "found" it in your yard? Dug it up and had it polished? If it looked exactly like that when you found it, I imagine someone just dropped it there. Please explain.
hello Wyatt, you have confirmed a Mohs hardness of between 3 to 6 following a procedure outlined here -
https://tskies.com/blogs/news/what-is-turquoise-hardness-and-how-to-measure-it
other tests you can try involve using acetone or nail polish remover and a q-tip to see if any color rubs off from a stone and onto the q-tip.
a more destructive test would require either a drill or a hammer to get a look at the inside to see if color is true as above so below
Thank you all for the input so to clarify, I was digging by a small tree in my yard and found a over 100 pieces all in veins and around the roots. I have tried paint remover, the scratch test and I'll look over the hardness test but after found research it seems there is the layer that's most nutrient rich spot.
I posted more info for it
take a look in here and see if there is a local rock & mineral club listed in your area. they usually have meetings where you can attend as a guest or at the least contact info posted.
Thank you for the advice! I'll look into them
So what you have is, I think, beading-supply store beads or parts of a broken necklace. I looked more carefully and found three beads with obvious drilled holes. Probably the others have them as well, just not showing to the camera here.
I expect they're a composited material I suppose to resemble turquoise, but in this pic they don't look like turquoise, they look like howlite. The powder or periwinkle blue is just off. Furthermore, they seem to have a polish or coating.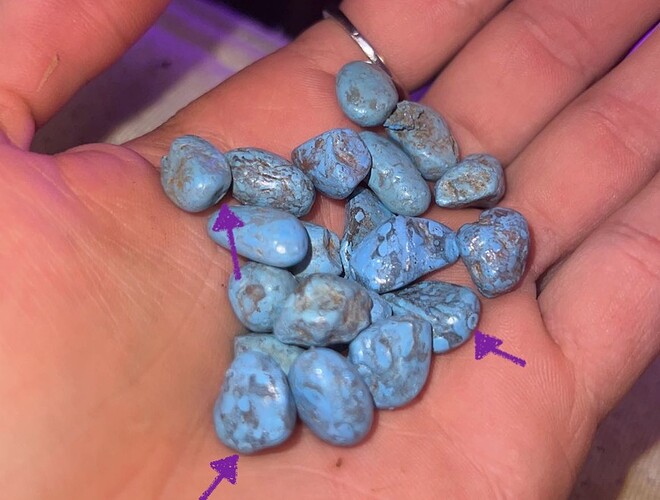 Yep. Looks like dyed Howlite in the photos.
I have tested with acetone and done a harness test and neither tests have failed. I originally suspected that with the research I had done
I still don't understand your comments about testing, especially what the word harness means to you. Someone else said you may be talking about hardness: did you test this, and how? Did you use a kit and determine some number? What is it?
I hope you got what you need from this thread and are hearing the feedback.
And I have no idea what you mean by "nutrient-rich layer". I can't imagine finding turquoise around the roots of a tree. And this certainly looks like it's been polished somewhat whatever it is, and it doesn't look like turquoise.
A friend of mine was digging in her yard. I don't remember why whether it was to start a fire pit or a plant some thing but she came across all kinds of rocks and crystals. One she did not identify for a good while. That turned out to be a meteorite. Finally she remembered buying her daughter a huge box of miscellaneous rocks when the child was young. Probably eight or 10 years old. Anyhow what she was doing was digging up what her daughter had buried in the yard. She made some pretty good finds. She thought it was just miscellaneous rocks back then but apparently it was an elderly gentleman's collection and the meteorite turned out to be valued at over $300. I think you have found some thing along the same lines except blue stones.
I'm also confused by this thread. Are you thinking that this is turquoise that somebody dropped or left in your yard? Or that the geological origin of it is your yard? Either way I agree with the above comments that this is not turquoise but some sort of dyed or reconstituted material.
I very much want a turquoise-burping yard.
Literally LOL!
Mine just burps up worms, at least according to the robins.
turquouise burping yard snort