So I had some time this am, and was looking back through older topics. Read a thread on whether to remake a ring that was too big into something else. I normally wouldn't change something, but I had bought a Hopi buckle that I seldom wore, because it was too small for most of my belts (but loved it so much bought it anyway). It sat unworn for years, until I finally took the plunge, and had a store in Albuquerque remake it into a pendant. I let the lady there do whatever she thought was best, but I figured it would just have a little hoop on the back to maybe fit my thin heishi strands through. But it came back like this,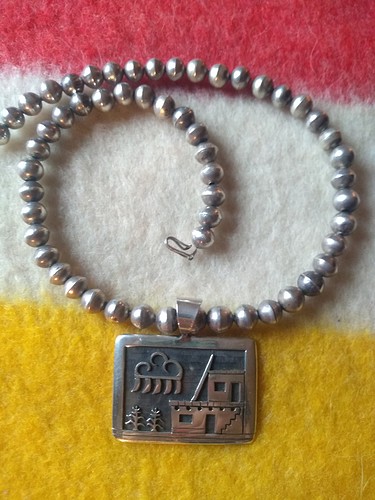 and it's perfect to fit all kinds of necklaces through.
I bought the necklace a long time ago at Cameron Trading Post in their small pawn section towards the back. These work perfect together! It's a change I'm glad I made.