anybody remember when "liquid silver" was popular? don't need your personal recollection,of course…lol
thanks,folks
I found a reference online in a book about beadwork history that dates liquid silver to the 1970s as a starting point.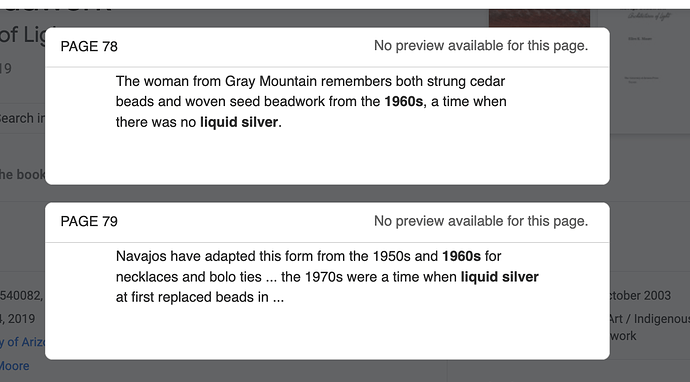 I have some necklaces/bracelets from it made in the mid 1980's.
i have a 30" 20-strand liquid silver necklace from the early 90s that i wear regularly. It gets lots of compliments. I wear it much more than my Navajo pearls.
I personally think it's gorgeous, and love the feel of it against my skin. I find myself "petting" it when i wear it.

thanks,people! that was my impression but who was it that said,"if you remember the '70s,you weren't really there"?
first time visiting my pusher inna while yesterday (not restraint-aug.heat) & cuz my 40 strand necklace does such a nice job w/the new tommy singer bear & it's bit of gold in it's design,I went for a nearly equal size gold-filled item;-) I dunno if I'll swap em,do both or even "swirl" together or plain old "wing it".
unfortunately,a shorter,12 strand piece had come in &…yeah,of course I got it. Took a bit of bending the bezel w/pliers to slip the turq&coral bear pendant on.