Has a Royal Blue Royston Turquoise look.
Thank you! I am new to this, but that was my guess. I am figuring out that I am partial to the earthy look of Royston!
I love it and it's vintage feel! Did you get it at the little "Fred Harvey Trading Company" shop that was in the Old Faithful Lodge…? I got a Dishta-type ring there about 20 years ago :).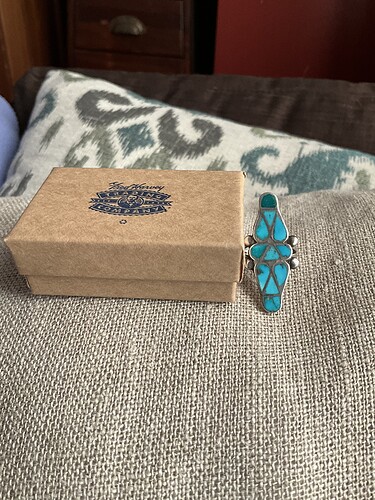 I love both the pendant and the ring! I haven't been to Yellowstone since 92; I think I did go in the Fred Harvey shop there, but I don't remember buying anything. I have so many Fred Harvey hotel/shop memories from family travels. There is also an excellent Fred Harvey book by Stephen Fried called Appetite For America if you are interested in history. I did buy a really lovely ring in Jackson Hole on that trip.
Great looking ring! I'm going with Zuni and Blue Gem turquoise.
I actually worked at the Native American jewelry counter at the Hamilton store on Yellowstone Lake. I don't even know if they have one anymore, since it was a little over 30 years ago! I worked in National parks during my summers off from college. I LOVE the ring!
Bonus for the Fred Harvey box

Yes! I love that book! I know the little shop in YNP said it was "dead pawn"…they said all of it was dead pawn. Even though I didn't know what that was at the time, it seemed like a marketing ploy. The ring is super nice, though! Vacation memories…
I worked at a dude ranch in Sunlight Basin in college…right next to YNP as the bird flies. Then I worked doing visitor experience research a few years ago. It is a killer commute everyday, right? I think they still try to get a good variety of NA jewelry in their gift shops, they are just contemporary artists these days.
That's a fantastic Zuni inlay ring! Very different; I've never seen one like it before. And how cool to have the box, too?
It would be so fun to work there! I bet I was in the shop you worked in, but it would have been in '82. I remember traveling with my mom and my cousin in '82, and stopping at many National Parks throughout the west (we took a month long driving trip). Of course we loved it that all the college guys were working in them!

My cousin worked at Jackson Lake Lodge one summer during college in '84. My nephew was a bellhop at Glacier, then a ranger 2 years at Rocky Mountain, and finally he's the Superintendent at Colorado National Monument.
Which ranch? We visited 2 different ones in the Yellowstone area in the past. I believe the one was on Grand Teton park land, and eventually closed because of that.
The first pawn piece I ever bought was at a store in Flagstaff that sold a lot of pawn jewelry. It had a dead pawn ticket, and because I didn't know what that meant at the time, I threw the ticket away when I got home because it kind of creeped me out

I believe, at least now anyway, the National Park shops are very careful about what they sell. I bought a pawn cuff at Zion one year.
It was fun! I also purchased a Zuni pawn bracelet, and some other small jewelry pieces while I worked there. I ended up working for the Forrest Service for awhile after college, in Montana and California. BTW, it was better to see the college boys passing through the park, than work with them every day!
Hahaha so true! I just got to flirt a little and drive on!
What interesting experiences you must have had. I envy you!
It was the 7D…another superlatively great job ;).
I agree about the quality NA items in the gift shops at the NP's these days. Some of my favorites were bought there a few years ago and they are beautiful work by native artists.
The first "real" piece of NA jewelry I bought was a dead pawn 5-stone cuff at a gift shop in Yellowstone National Park. It also had a pawn ticket with it that I didn't understand what it was at the time. I didn't throw it away but it's stuck in a random box somewhere in my house; wish I could find that. I do recall that it was from a trading post in Gallup, because I didn't know where that was and had to look it up.
National parks do have some good items!
The only thing I remember about the pawn ticket on my bracelet is that it was blue. It has been decades since I have seen it!
I kept all the other pawn tickets once I learned about it. But that first ticket said dead pawn (all my others say pawn) and it bothered me because I thought it meant the seller had died

I didn't receive the ticket with every pawn item I bought, and I don't think they give you them now, but I have quite a few. A number of them were from The Eiteljorg Western Art museum which would have someone from stores in Gallup bring in small crates of pawn jewelry during their Indian Art Market. A few I have say Tobe Turpen, which is now Perry Null, wonder if that was where yours was from!
What I wouldn't give to know where those old pawn tickets are!