Hi, can you upload some more close ups? Any hallmarks?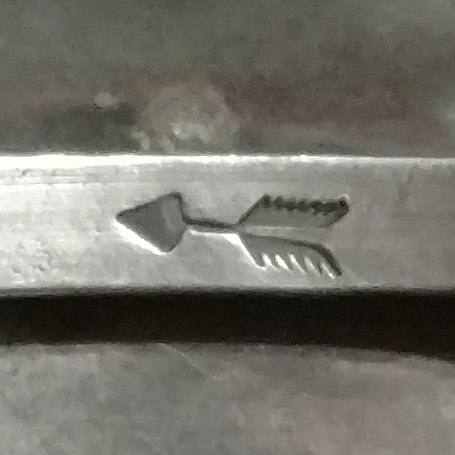 This would be the Hallmark on it, My fathers, he died in 87 when I was 5, I have a few pieces of his work in my collection and others such as this piece, I just have photos of his work that were passed down to me through my grandma, his mother. This photo gave the description and materials used and original sale price he got for it. He was from Arizona. Had a shop in Prescott for a couple of years but was from the Payson direction originally.
That's one unique Squash Blossom. I saw one almost exactly like it recently, and only 1 time. Myself and 2 others had no interest in purchase, just admiration for the artist or artists. We at 1st, felt it was a Pine Needle Motif. Then I remembered the things in our families Antique Store as a boy, and I though more about Peacocks Feathers. I notice Perssia is written on it. Persian Turquoise is the best in our World. At one time, the only source of Turquoise Trade was Po ersia and its Trade Routes I believe. This is debatable, matter of taste. I v will look f o r that past info. If it's there. Any thoughts on why it says Persia? Also why no actual photo, if I may ask. Sorry I can't be of more help, great piece of art.
I'd appreciate it if you could find out or remember where that was at! Long story short my father, the artist of that piece died in 1987. I'm unsure of what year exactly it was made. He was a maker before I was born, when he owned his shop in Prescott and He also made after I was born. It was 1993 when I received some of my father's work along with some other family heirlooms. My grandmother, gave me a photo album basically of his "life" and told me different things about the photos in there. Almost all the photos have a description of where or what they were taken of. There's a whole section dedicated to different photos of his work throughout the years. So all I have are the photos as a reference for the pieces I'm missing, I'm going to attempt to locate as many pieces as possible to pass down through the family. I have 2 photos of that piece, which I figured would be the most recognizable, at the bottom on both photos is wrote "14 carat gold with Persian turquoise." He worked with a variety of stones. Hand cutting and polishing most himself.
If I may be so bold, your a very fortunate person. My father was a Engineer, Air Force Civilian. I respect what he did, he was involved with SAC, Bikini Atol, etc, etc., however he was not an artist. He had a scholarship to Juliard, but his youth during The Great Depression, prevented him from choosing what he called, " the less secure life of art ". I am blessed with some wonderful Colonial New England Antiques. So, we are both blessed.
I admire almost all forms of art, and those who undertake them. The more Skill ( time ), involved, the more I tend to admire. I belive I saw the work, either on Ebay, or a number of online locations. Ebay & Pinterest are possible. I was silly enough to think you didnt know the artist, lol! So a J.S. Bellson is a name that I disvarded after finding no matching works, just wonderful pinpoint work. The way yours curves, giving the look of palm fronds, etc… is so unique, it looks foreign. Not foreign as in from far away, just unlike anything Ive seen save that one.
I can do the following. I sold, and have a store on Ebay. I am somewhat active in the Community of Native Arts. So, I can keep a eye out for your fathers work, then guide you to it. I know, I mostly just made things more of a mystery in the startperhaps…Not my intention. I simply found the work interesting and unique.
I shall go back over what history I can on my omputers, etc.if I took a Jpeg, pic, etc., I shpuld be able to find the squash blossom that reminded me of Pine Needles. It depends on several factors.
If you like, I am on Facebook. Jonathan Dearborn I live in the city of San Francisco.lookbfor an Gallery of Native Art and many Art works, thats would be me. If you like, I am hapoy to add his name to my daily routine of searching for rarities.
I hope your able to find what brings you closer to such an amazing Artist & man. l have seen the HaLLmark. Would love to Know more if possible as well as help to my ability
Best 2 u & urs. Jon
Fantastic Work. Thanks for Sharing it. He certainly loved Stones. This work has a very Late 196Os to mid 197Os look. Not that l an expert mind you, simple guy who loves to geuss as well as gain and exchange knowledge.
Myself l Love a good bolo hatpin cufflinks perhaps someday a nice old silver Stamped box. Heres one of my bolos l adore.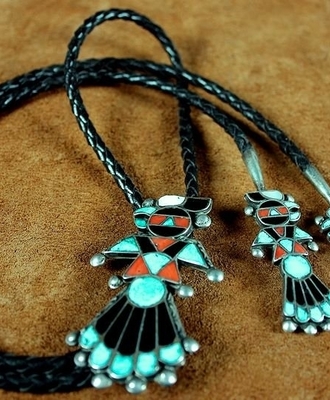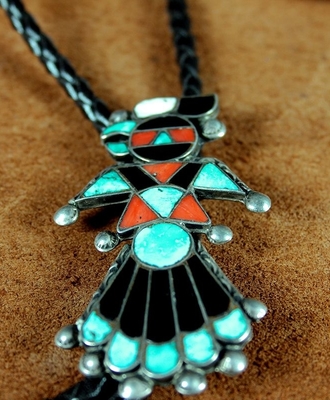 First of all thank you for your time and input. Time is truly the most precious thing anyone has in my opinion. His full name was Virgil David Franks, most always just went by David. It is truly a mystery where things end up and how they get there over the years. As far as him, he had somewhat of a gypsy type soul that loved to travel and he did. He did spend a large part of his life strictly in Arizona though exploring the states wonders. Most of the time he worked with or collected whatever he found on his journeys. Was big into melting down precious metals from other sources and repurposing them to use in his own work. I believe he even had claim to some kind of mine at some point but I do not know the type. Bits and pieces are all I have and much is like a puzzle, but not knowing and then learning is what keeps it interesting. I will definitely look you up on Facebook. Bill's have always been a classic in my opinion, I personally have never mastered the "look" to be confident enough to wear them. I find them quite appealing though and yours should be cherished for sure.
Thank you! I agree, they are tricky to sport! I find wearing one small bird at a different length does it, but yes…its unique on, lol! Not something you walk miles in. Your info is very welcome. I hace found these called Frank Vacit work, as well as Leo Pabaloma. The 2nd name may be off a wee bit. Im so happy to know about the artist. May I ask did you gain this knowledge in trades, books, etc? I now know much about the artist, of something I adore and cherish. I hope to learn more about him somehow. Much thanks for your precious time. Best, Jonathan or Bartleby.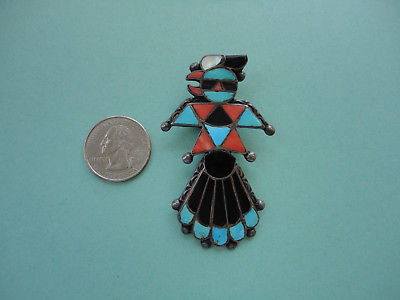 If I may ask, what do you think of the single piece I posted? Same artist? Thanks again!
This piece seems to be the same artist as the BOLO, this photo isn't as detailed as the other but I would check the silver balls at the points. The BOLO appears to have been struck with a "seeder" or "camouflage" tool in those areas. Those are the names of the tools in the leather world, unsure about silversmith terminology. It's worn smooth on some but you can make it out on others. I've found most made their own stamping tools so it's the fine details that identify matching pieces with the artist in my opinion.
Very much appreciate that. As well, the triangles of inlay are very different than the " book piece ", I know. I imagine it was a matter of what the maker had to use as you mentioned. I imagine if something sold well, it was incorporated by many artists. Again, thank you for your time and knowledge.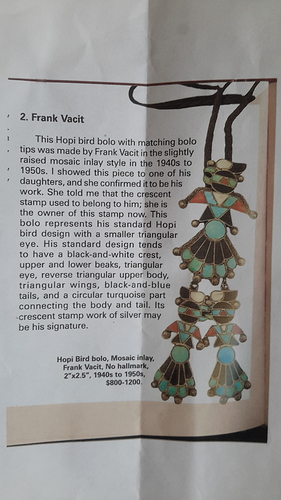 Not that mine is exactly the same but I love it.
Interesting. I appreciate all thos information. I own a few small Hallmarked Vacit works. Nothing crazy, even his Hat pins are fantastic. Yes, the back of my bolo looks exactly like Leo Poblano. It was purchased as a " Frank Vacit Book Piece ". That's got nothing to do with why I purchased it. I found Leo Poblano and the exact bolo. I am grateful for all this information.
The image dfranks33 saw was just similar to mine, but not mine. Its been re strung recently, etc. They are both different bolos as you can see. I'm curious if they are both Leo. If you have the time I am interested in your thoughts. The bolo with no cord, another deal all together. They are similar, all unhallmarked, etc. Also curious what you think about unstrung work.
Regards & Thanks, Jon