I posted these earrings months ago in a thread about my mom's train trip. I definitely know she bought them around 1945 in Santa Fe while on a train trip. I would love to fix them, because of the family history, but they've pretty much broken apart in the middle between the two stones. One stone is sitting deeply in the setting, because it fell out. The sawdust was old and dried, so I probably was a dummy and put it in with super glue, because at that time they were still wearable. Then it completely broke. Way back I had them switched to posts from screw backs.
Also I was wondering where these stones might be from considering the earrings were made in the 40s? They're a little bit greener than the picture. I'm assuming they're natural since mom bought them so long ago. They're very glossy.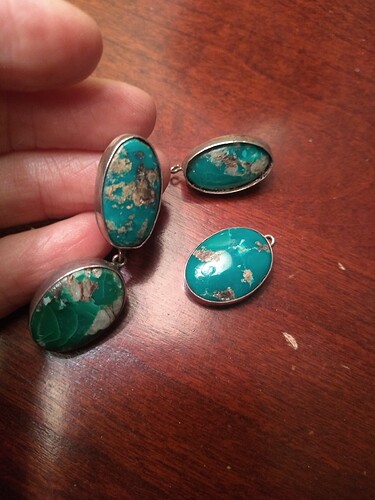 I'm intending to send my heishi cuff that I posted months ago in the next week or so to Perry Null to get fixed. Was wondering if I could send these also.
Thanks!