Thank you for info. I bought it at a garage sale with a wonderful Hopi pin for 25 cents. No there is no hallmark.
Thanks again
Linds
I'm Pretty sure the darker stone is Mahogany Obsidian. Mahogany Obsidian is unique to North America. It is often found along an iron belt that stretches from The Rocky Mountains to Central Mexico. Info and picture from the Emeraldhollowmine web page.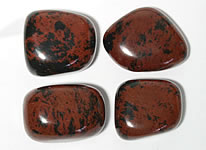 and the red stone is red jasper. Red jasper is found worldwide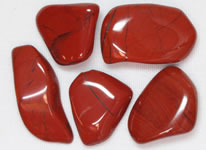 Hope this helps, Kyle
Thank you. Any ideal of value?
The two links I shared above show values of $100/$233. You can research Sold Listings on eBay to see what similar items have sold for by using appropriate keywords, and I think this is the likely ballpark.
I will note that, like in the photos above for similar items, antique jewelry sites refer to the stones in old Scottish jewelry similar to yours as "agate."
Thank you so much. I love this site.
Linda
The c catch puts it in the 1890/1910 era. The red is jasper(common) but the other stone is bloodstone(more rare and highly valued). There is also a piece missing on the front…where those two knotches are would have been an additional decoration on the front…could have been a cross, or identity type decoration like initials maybe…and the pin is a little bowed but still fully functional…I would value this at around $60-75 because of the damage but undamaged these Scottish multiple stone pieces go for between $125-300…but still a very good find and definitely worthy of more use! Very pretty! Aye!
~Koliopee
Thank you appreciate the info.
Linda