I'm trying to see it but it's a little blurry. Can you get a clearer pic? Maybe just a couple inches farther away would help.
Thank you for trying Rachel, best I can do image wise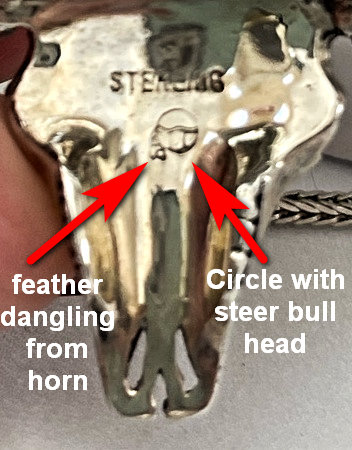 …Summary is a circle mark with a steer/bull head and a feather hanging from one side or from horn on one side, thanks again Rachel…Piece is vintage skull , sterling, pendant…photo is from the back…
Found " P Sanchez Sterling" mark, close though, but horns are very vertical and no circle enclosing the head…( also P Sanchez Isleta)…so , in such a distinctive mark, I would assume it will be struck the same way…every time…in configuration/design…which is why not 100% sure on the P Sanchez one…as to whether it relates to this one in the photo
thanks ( of course I assume it is a steer/bull head in the case of photo uploaded, but could represent something else since so stylized and hard to discern)
Is it possible to give us a look at the piece, the other side?