On and off, I've been collecting cuffs by Delvin J. Nelson (or DJN, as he stamped his work) for several years now. I'm up to 67 and I'm not done yet.
[url=https://imgur.com/gqOebxf]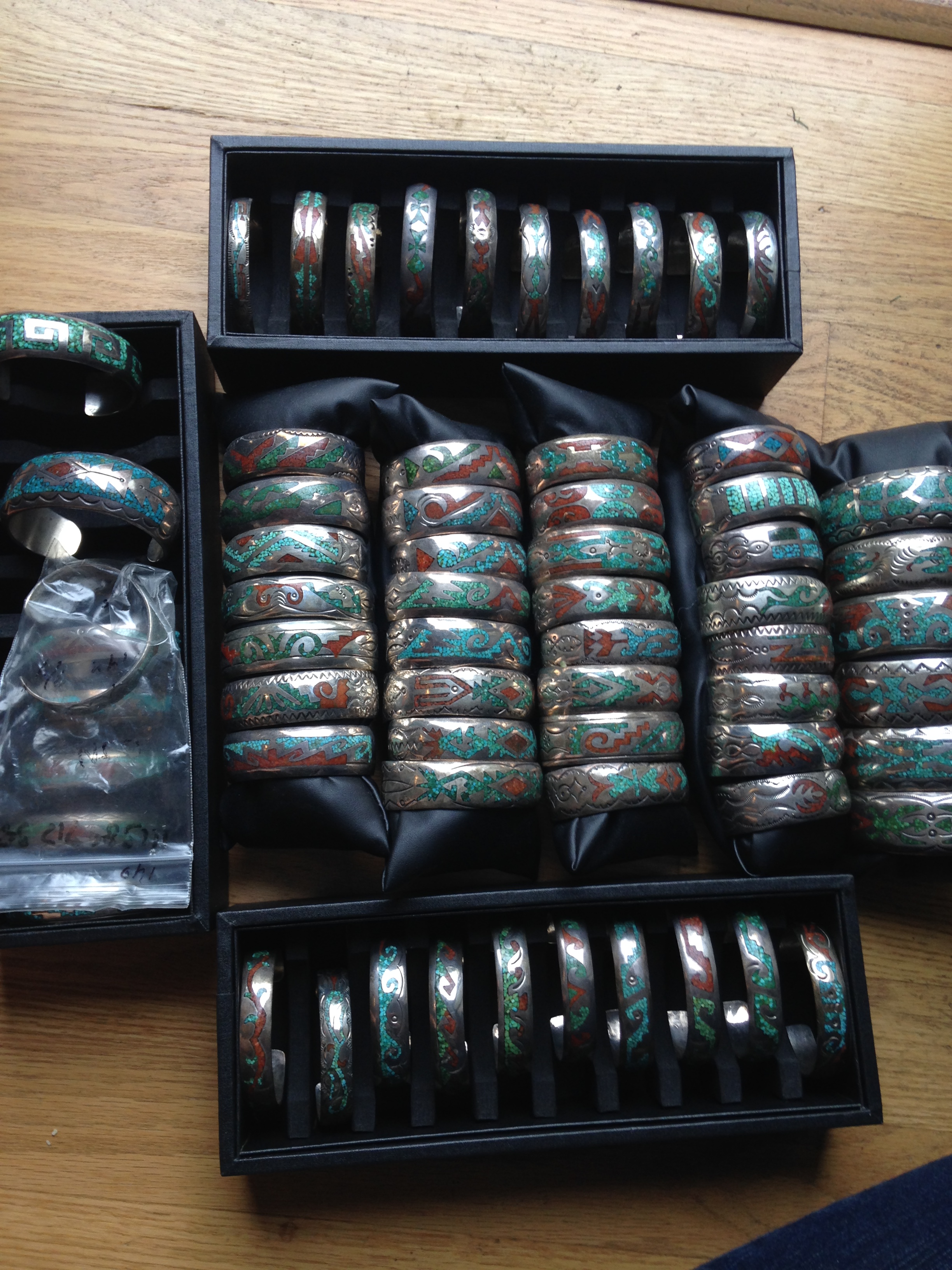 [/url]
Why? Nostalgia is a potent drug. Back in the early 1970s, during the Native American jewelry boom, when I was a child, my mother worked in a high-end saddlery shop which had a very profitable sideline in selling this jewelry. The shop owner gave me a bracelet one day, sort of randomly, because it was small, hadn't sold yet, and it fit me well when I tried it on.
[url=https://imgur.com/DROu4OS]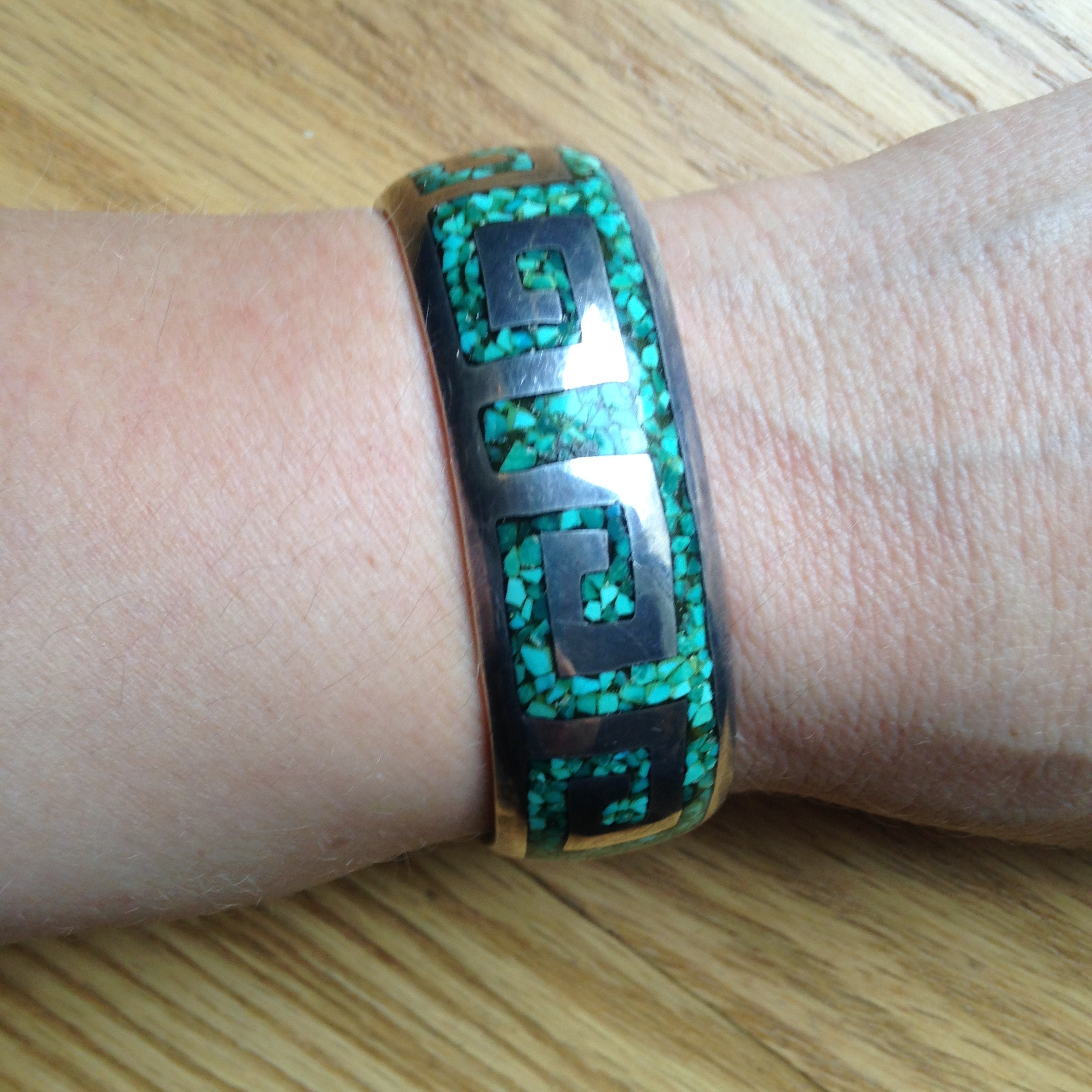 [/url]
She told me this kind of work was called "chip inlay." Spanning around its shiny silver width, in a linear design known as the "Greek key," there were tiny chips of turquoise suspended in clear resin, sort of like aquarium gravel seen underwater. They were many shades of turquoise and they had an almost glittering effect. I loved that cuff; still do, and I'm glad it still fits.
This bracelet was signed, which was unusual for the jewelry that the shop sold. I thought it was the name "DON," in all capital letters. (And so, to this day, do a lot of online sellers.
[url=https://imgur.com/99VmB7z]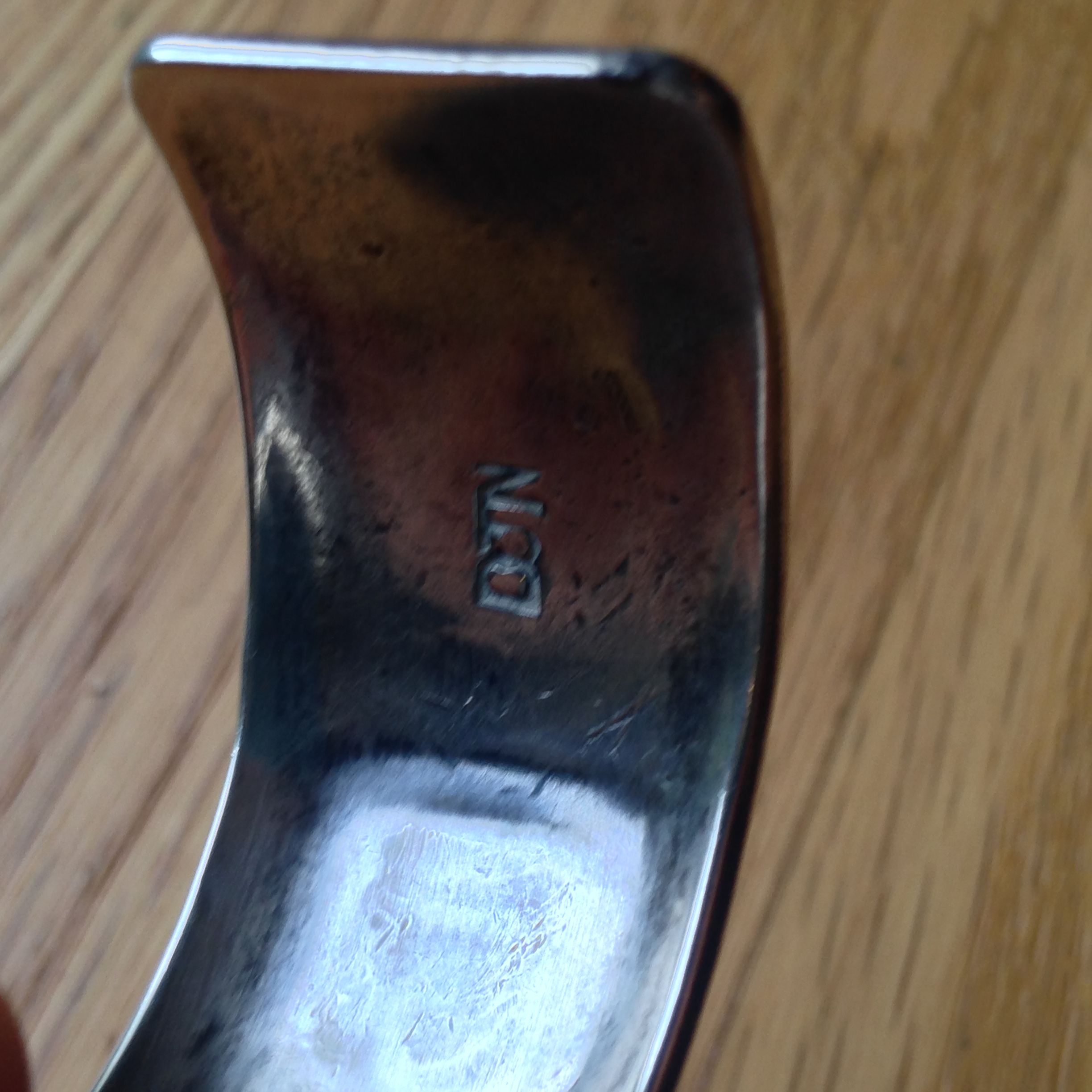 [/url]
I owned this bracelet for decades before I tried to find out who "DON" was. I turned to the online hallmark guide after a Google search. To my delight, I got a match: He was there, right in the "D" section of the online hallmark guide. But I'd been wrong, and the initials were actually "DJN." I don't know why I was so happy to finally put a name to the work, to be able to say that a Navajo man named Delvin J. Nelson had made my bracelet, probably in the late 1960s or early 1970s, but there is some kind of human connection in owning something hand-made and knowing what person made it.
After a few days, I ran some searches for his name, found some more bracelets for sale that he had made, which I felt would look good stacked on top of mine, and my collection started.
[url=https://imgur.com/kJWTLLV]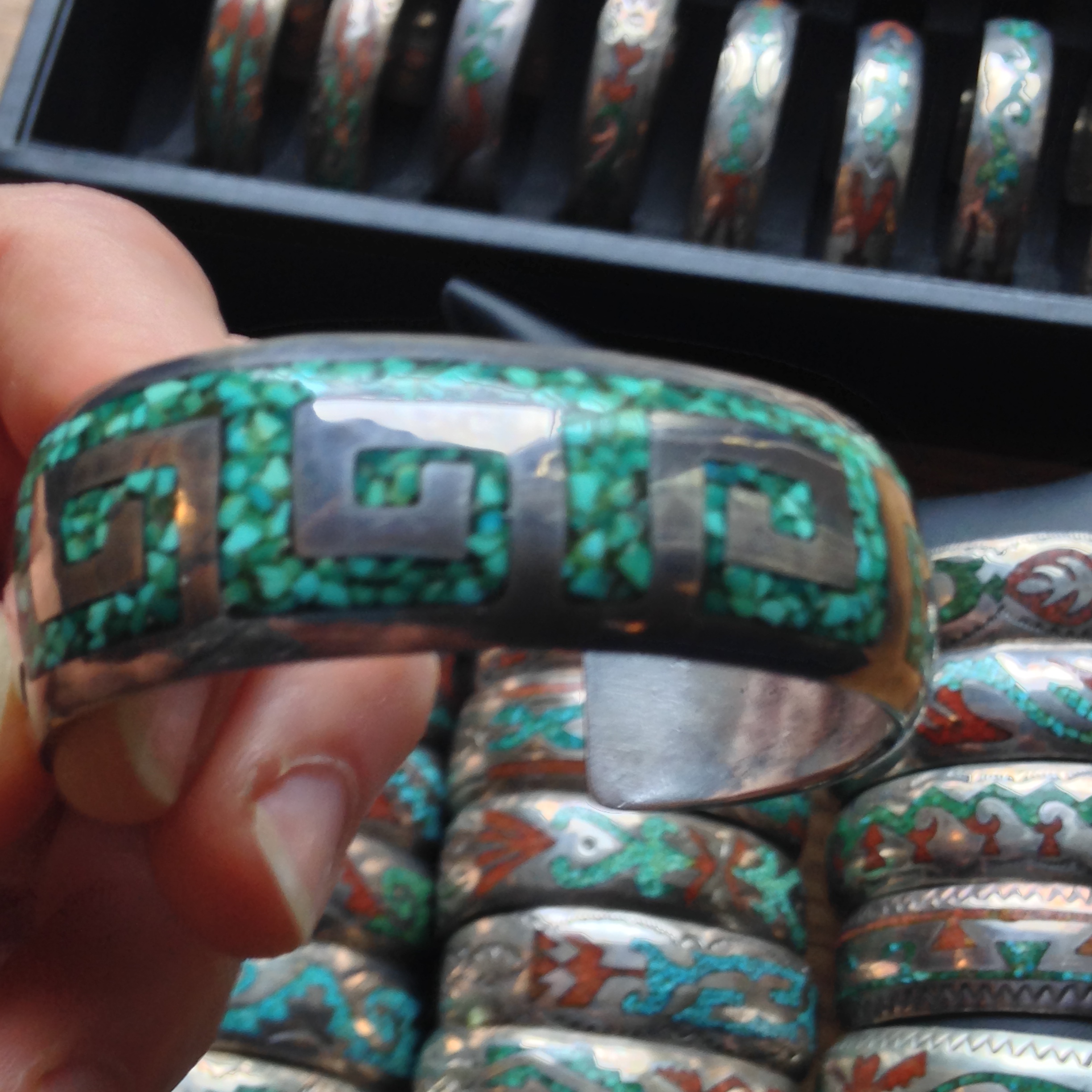 [/url]
I only know a few things about Delvin J. Nelson.
He was a Navajo.
He may have lived in the Mentmore, New Mexico area – someone wrote that in an eBay listing once.
He was prolific – there are so many cuffs out there that I have let many go without bidding or offering, and still there are more turning up every few weeks.
He may have used stencils to outline his designs. I own several bracelets that use the same motifs, and measure out similarly, though the inlay color and stamping is never exactly the same.
[url=https://imgur.com/IjYI9Yx]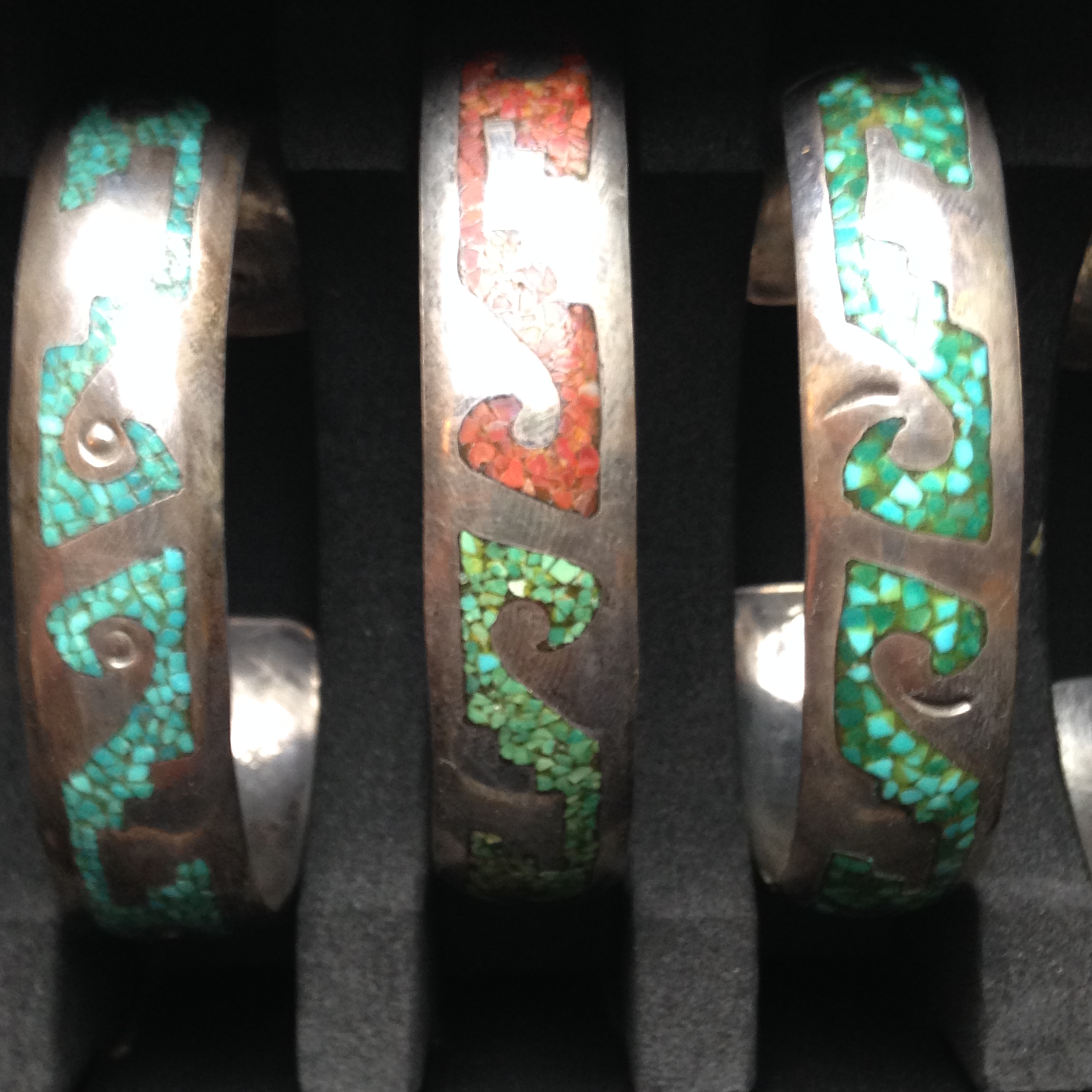 [/url]
[url=https://imgur.com/bdQl4Yp]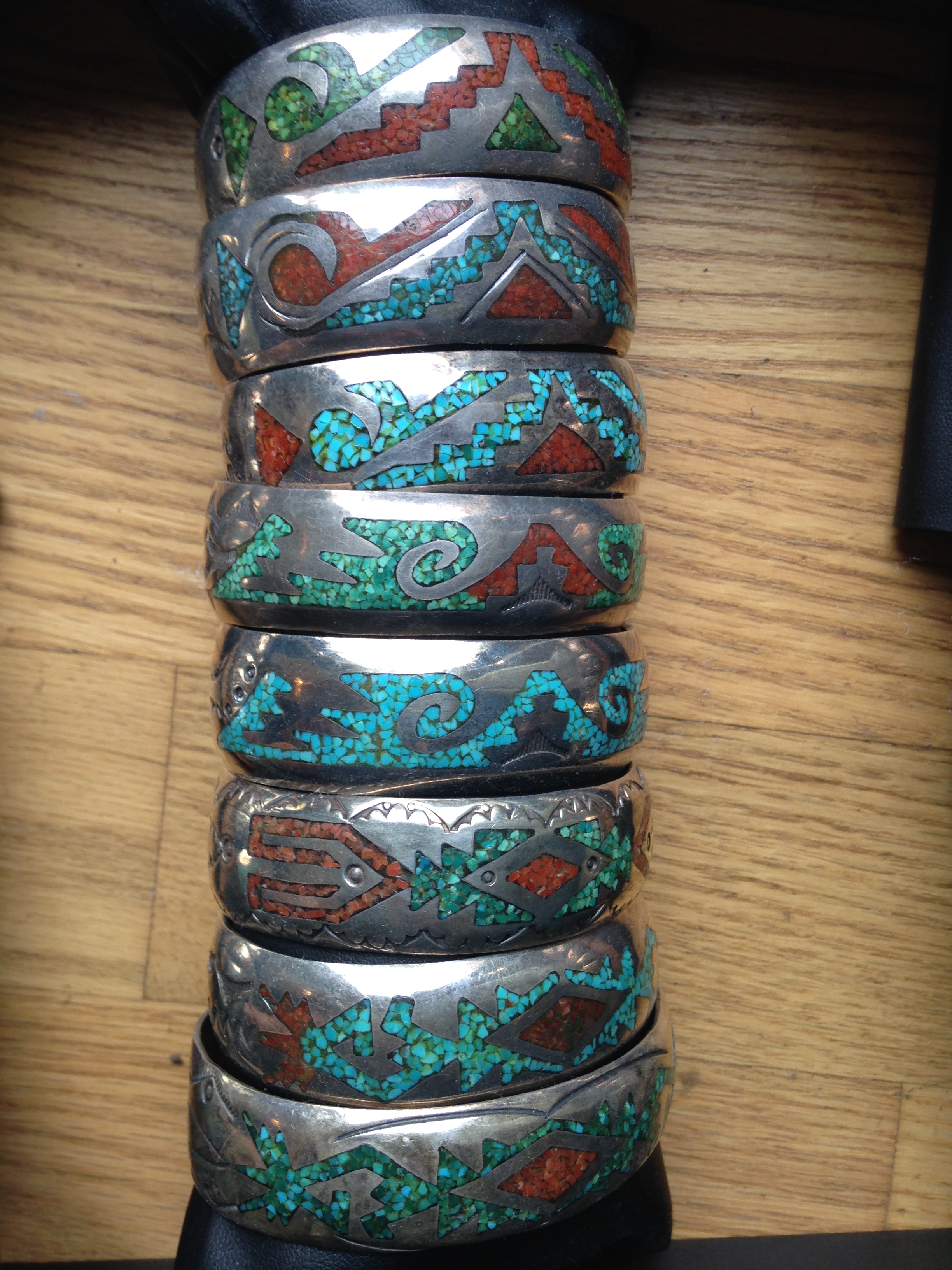 [/url]
Also, DJN worked during both good and lean times, because the thickness & amount of silver used in his bracelets changes somewhat and I have to think they were made in different batches and perhaps in different years.
[url=https://imgur.com/obhf1cp]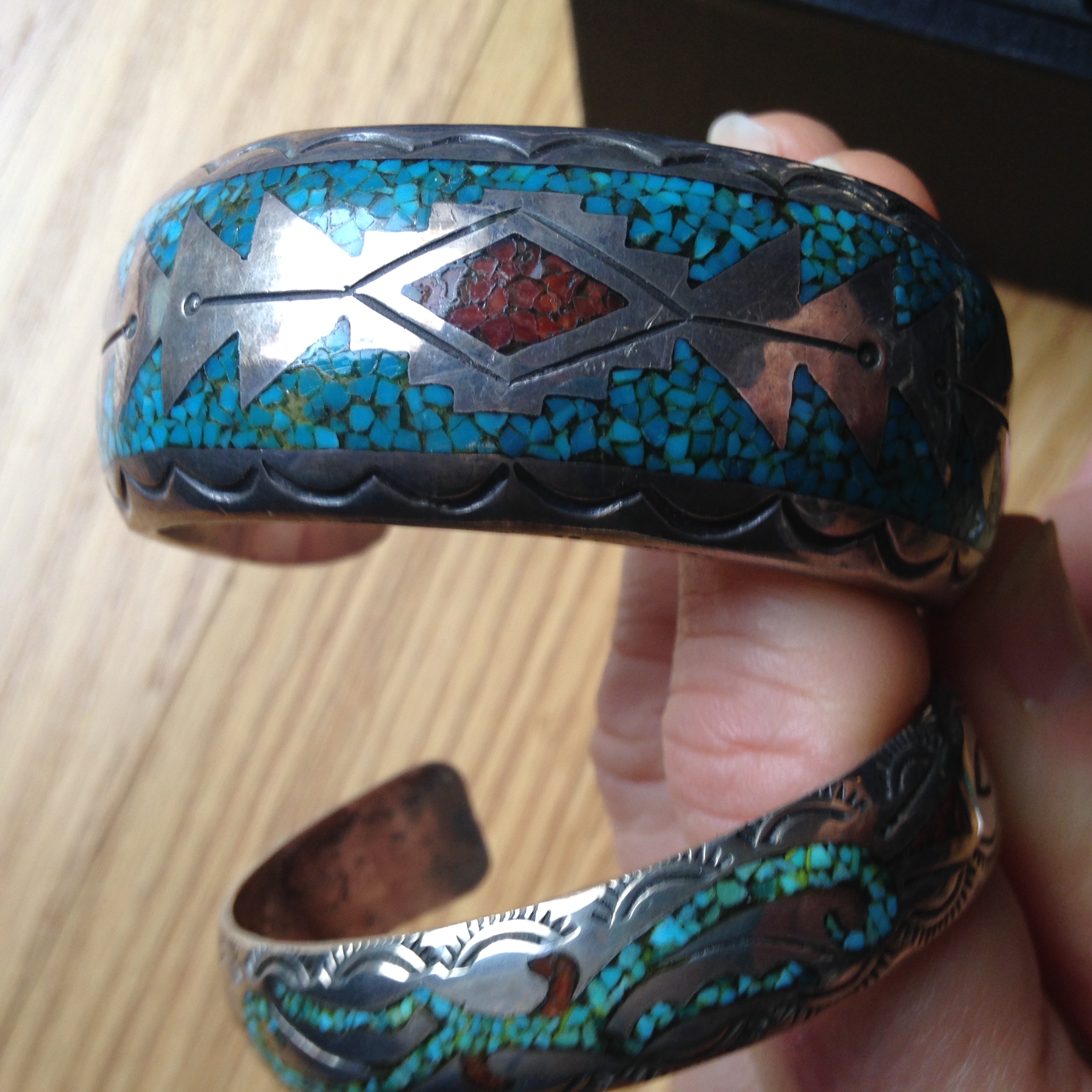 [/url]
I have gotten better over time at spotting his work in online photos even before I can confirm the signature — probably because some part of me has learned the motifs/stencils he uses or that something about his style has imprinted in my visual memory. I am not so sure of myself that I would confidently buy something unsigned as his, though. I always look for that DJN. I believe he or his family members were pretty conscientious in signing his work because of how much is out there.
I hope to learn more about him one day.