One source I found attributes this mark to Bernyse Chavez. . . "Bernyse Chavez was born in Tohajiilee, NM, part of the Navajo Nation and continues to design and make her jewelry in New Mexico."
That secondary stamp looks like a shop mark though… to me it looks like a stylized eagle made up of the letters G and E?
Thank you. I have a ring with the same hallmarks that was attributed to Ben Chavez. I've also seen it attributed to Bernyse Chavez.
Ah I see. Most of Ben Chavez's work that I found had this hallmark: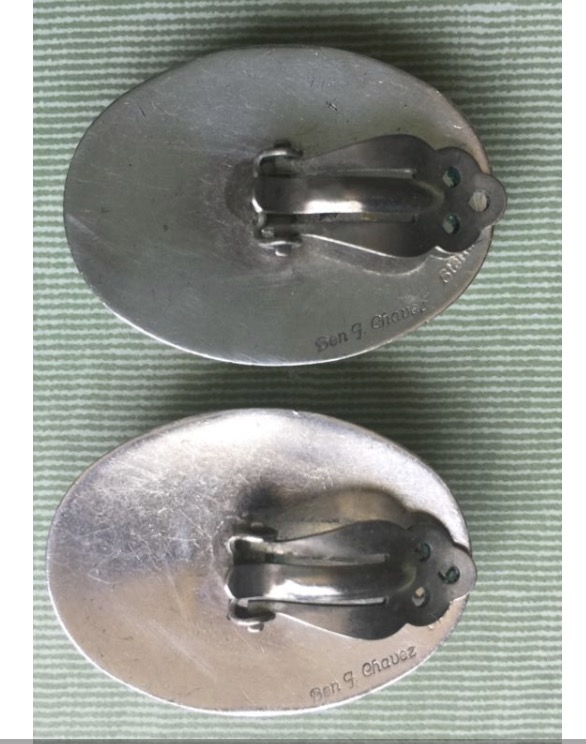 Which led me to believe that your necklace was by Bernyse. But I have seen Bernyse's mark attributed to her, and attributed to Ben Chavez as well.
Gonna go with Bernyse! Thank you!!
I stumbled across this!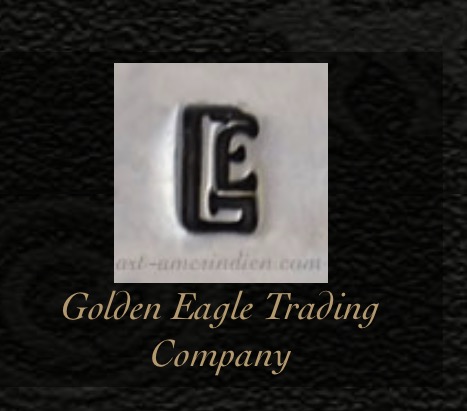 The second mark on your jewelry is a shop mark attributed to Golden Eagle Trading Company

Oh, aren't you the BEST!! Thank you! After you sent that, I found an interesting article from the Albuquerque Journal on the Golden Eagle Trading Co ( not to be confused with the Golden Eagle Trading Corp which is a beer distributor in NJ!!) I remember seeing that shop in Nob Hill! I found it ironic to read that they had a retail shop in Las Vegas called West of Santa Fe. My shop is East of Santa Fe. Strange world!
I very much appreciate your sleuthing skills!!
You are very welcome! I used to frequent Nob Hill when I lived in New Mexico and I remember the shop being there, but from what it looks like they may be closed now. That shop has great local history, I think this is a great piece to own if you're a local New Mexican