OMG! It's lovely! And you got it at a thrift shop!!! Wow
I think that's a pretty accurate price, probably the high end of retail.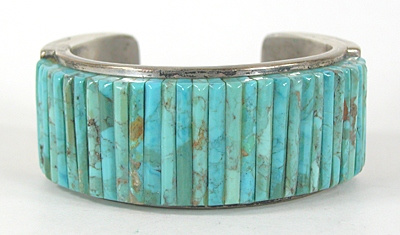 https://www.horsekeeping.com/jewelry/pawn/bracelets-pawn/BP591-inlay-turq-sierra-678.htm
It's a very nice collectible piece!
Thank you for responding and your help. I keep looking and just can't find anything with this kind of design and inlay…UGH!!
Good morning, I'm sorry it took so long to respond, work gets in the way sometimes. Yes, I found in a local thrift shops with a couple other pieces that I know nothing about and will post soon. Love this group, looking and learning.

Welcome! Lovely bracelet