Happy Mother's Day to all the Mommas out there. Featuring my grandmother's squash from the 60's/70's💕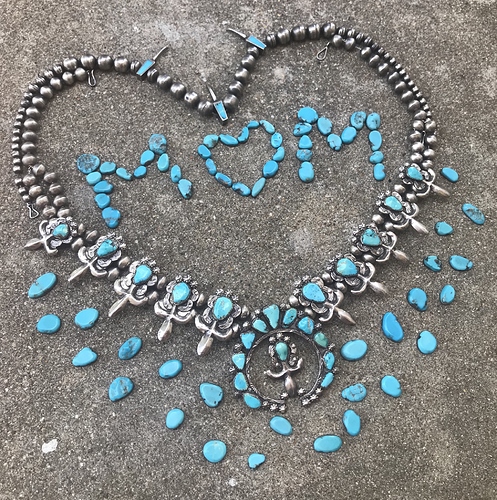 Sweet : ) Yay grandma's squash and your art work too. Thanks Bree
Thank you and your grandmothers squash blossom necklace is lovely! Happy Mother's Day to all of the other mothers.
That squash blossom is a sensational piece! It's so cool with the "fleur de lys" and star edge detail (sorry I don't know the terminology) Actually I see that you are showing 2 necklaces. The top one with the "tabs" is unusual. Tell us more! I don't suppose you'd like to post a modeling shot? Pretty please and thank you!!
Oh, you're right! I though it was one necklace, with a bit that would hang down the back…
@Scdub thank you so much for the compliments

I will say that it's a different squash, and I haven't seen one similar to it, I'm lucky to own it.
@Rosemaryr the "tab" necklace is actually a bear(?) claw necklace, with three cast claws. People usually think it's an older piece until they examine it up close.
The claws are cast and then Inlayed. I think this was probably made after the mid 1970's because of that. I've seen these before, however they're usually chip Inlay(which sort of reaffirms that mine was made in the ~1970's), and there's usually only 1 claw. This is one of my favorite pieces, and one of the first that started my collection.
@Jason I did notice that it shared a lot of commonalities with Simplico's style, and how i wish it was. I've researched Simplico's work for a few weeks after acquiring it, and I just can't say for sure!
Thank you for the modeling shot. You look beautiful! I love to see how people style their pieces. The bear claw tab necklace is definitely different, though so is your squash blossom. I don't know how to tell that it's been cast. Are the beads called navajo pearls and are they hand made? I don't know how to tell that either?.but learning a bit everyday. Thanks for sharing!
You look lovely and the wonderful necklaces just compliment your pretty smile.

You are very lucky it's beautiful. So special that it came from your Mom. I wish my Grandmother or Mother had been interested in jewery of any type. No such luck, I think I must be compensating for that or at least that's my excuse