In know this isn't turquoise, but can someone tell me what this honeycomb patterned stone is? Thanks.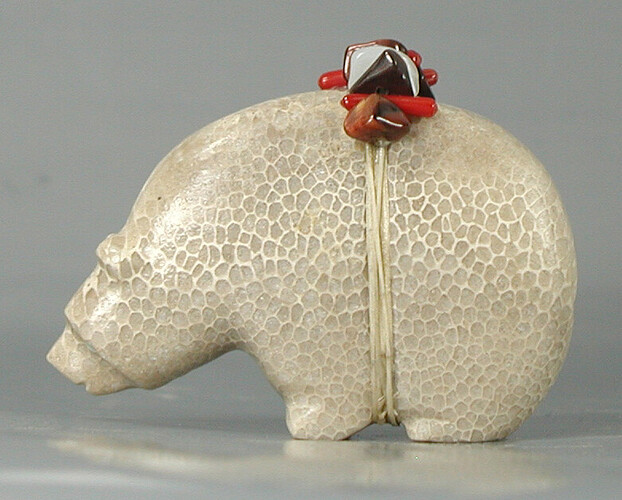 It reminds me of a Petoskey stone which is found in Northern Michigan. But not quite.
Petoskey stones are from ancient coral reefs in Lake Michigan. So maybe this is some kind of coral?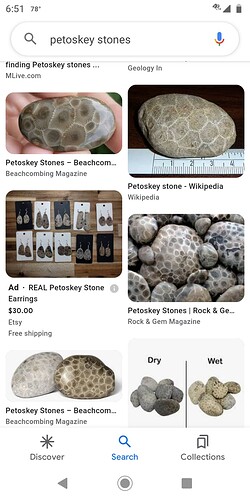 Thanks. I think you are correct. I've never seen Petoskey stone with such small cells as these, but it sure looks like it.
The bear is wonderful, even better if he's Petosky stone. I've never really seen it that light colored, but one thing I read said it runs from whitish to grey. I'm a northern IN girl who has spent her share of time combing the shores of Lake Michigan looking for petosky stones, so that was what I thought of first.
Not Petosky but definitely fossilized Coral. Cute piece!
Itmight be a favosite coral.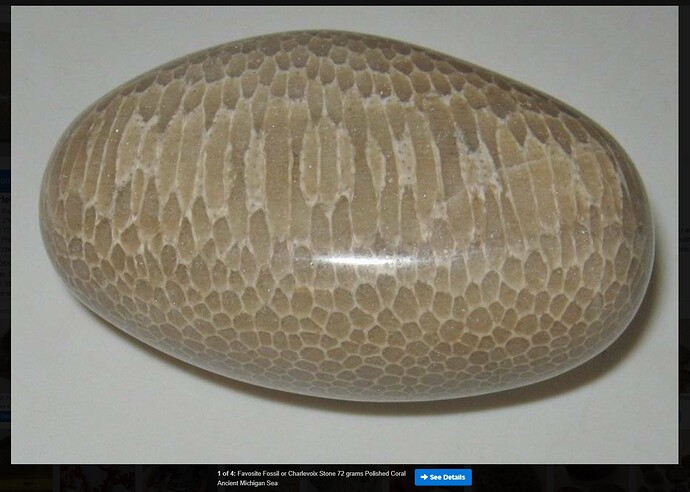 also known as a Charlevoix stone around Lake Michigan.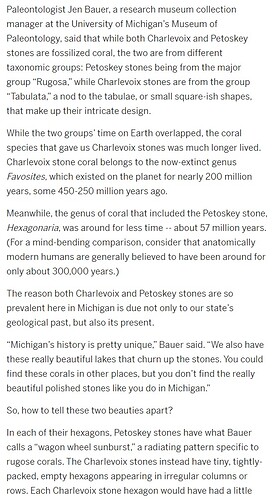 source: https://www.mlive.com/news/2020/07/meet-the-charlevoix-stone-a-petoskey-lookalike-thats-become-a-michigan-rock-hunting-treasure.html
Oh. My. Gosh. You guys have to be right! I knew it wasn't quite like Petoskey stones, but close. All the years I have spent in northwestern MI and I have never heard of Charlevoix stones. And those two towns are about 20 minutes apart (although I know the stones are found up and down the lake). Bizarrely I hope to be up in that area in a few weeks. I'll have to look for some!
I learn something new and fun constantly on here.
My hubby just said he thinks he has heard of them when we've been up there, but he thought it was just Charlevoix trying to glom on the Petosky stone bandwagon and calling them Charlevoix stones.

Excellent - you've nailed it. Here is another bear of honeycomb coral.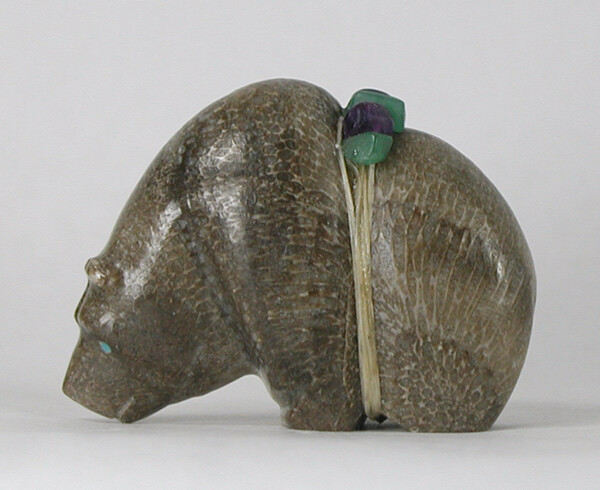 credit goes to fernwood for the "favosite coral" call, I just dug deeper from there

I wouldnt mind having that Bear fetish!
Excellent article on the stones, thank you
funny how folks get used to "rarities"…petosky stones;just another rock.
lol
kinda like the omg…BLACK squirrels??? uh,yeah-at least 85+% around here
We are just a wee bit too far south for black squirrels so I'm one of "those" people
Although they have some just 20 minutes north of here