So…I bought this cuff at Ogg's Hogan a few years back. Like the frog cuff I posted a bit ago, it was one I had seen there previously and didn't buy. It kinda stuck with me, and when I was back and it was still there, I got it. I'm not sure why I was so drawn to it. I was trying to choose between it and some other pieces that were more detailed and had turquoise, but I just liked this one the best.
When I purchased it, the owner Jeff was not there. The two ladies that were working felt it was a fairly old piece. I was asking them because it was kinda pricey, and I was trying to figure out why it was more than the other more detailed pieces I was considering. I think they thought it was 1950s or earlier (I can't remember exactly), but they weren't sure. They said he'd had it a very long time, and it had always been at this price. The ladies also said he doesn't generally raise prices on things he has even when the value goes up, so it must have been a more valuable piece than the others I was looking at. It has an old feel, but I am no expert. It appears to be two pieces of silver soldered together and hollow in between them, so it's not heavy. It feels kind of like a shadow box piece in its weight. There's a lot of hammer marks or something like that on the inside. I tried to get pictures of it on the inside but they're not too easy to see. On one end inside the silver almost seems kind of crinkled.
I really didn't think too much about it for a while, but now I'm wondering how old it could possibly be. I emailed him but haven't heard back yet.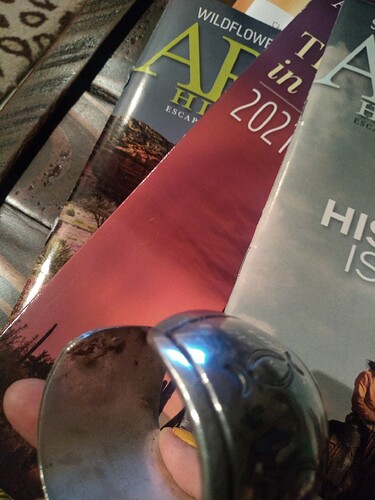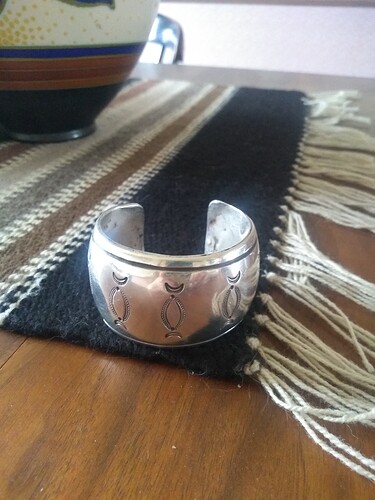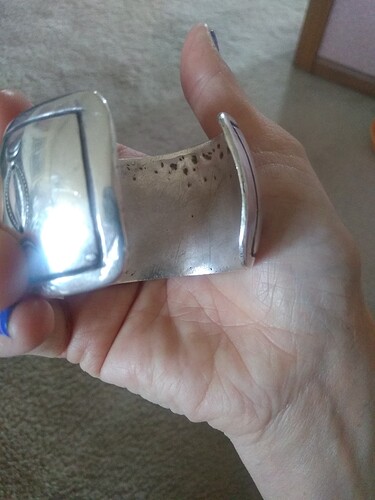 I knew when I got it it would be something that wouldn't necessarily be appreciated by people that didn't love Native American art. Figured people would think it was from India or Pakistan or somewhere like that. I actually did have a lady in the airport ask me if it was from Nepal.

But I love it. The ladies working there said the stamp design is called lozenges. Thought that was interesting.
I'd really love it if some of you experts would weigh in!!