That's a lot of red coral!
Super statement piece!
Pretty piece. I always liked red coral. But I'm not big on hearts (maybe just a guy thing). Resale wise I found used hearts and used religious jewelry do not sell - so it might be a good haggling point if you like it.
I'd like to hear from @mmrogers on the piece. Those dots look machine made but still looks NA to me.
lol yeah, it's definitely a lot of coral. It's just isn't doing anything for me. I got it super cheap so I'm gonna find it a new home. Thanks Stracci
Heart sell well for me, but most of my customers are women

I think I'm just gonna find this one a new home. I have a few people in mind but I'm gonna give the fam first dibs

Interesting. I have a nice little Navajo made cross, and it seems like I saw quite a few for sale at the Eiteljorg Indian Art Market. I'm still on the lookout for a bigger one.
I'm not really into hearts in jewelry, and yet I have 2

Me too @Ziacat . I have a couple crosses although I have no idea what to do with them. I don't cannibalize hand made jewelry so I guess I'll just have to look at them now and then to admire the workmanship.
Here are two I came across (pun intended)

: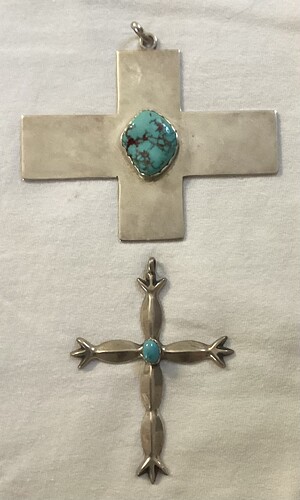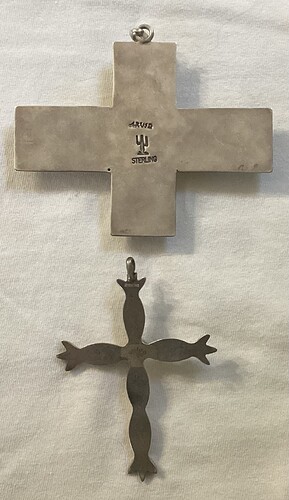 Hi Steve. My impression is "Native style", but not Native American work. This piece is interesting in that all of the bezels appear to be about 24 gauge, which is roughly the minimum thickness for casting bezels of this type. The "shot" is way too perfect, and looks like it might originally have been die stamped into perfect semi-spheres. Might be hand fabricated, but could also have been pre-cast from a handmade master with the coral being cut to fit. Either way, to me this looks like higher quality production work, possibly from the Philippines.
Those are lovely. Here is my one cross pendant (I do have some earrings, and a large cuff in what is called a Spanish cross).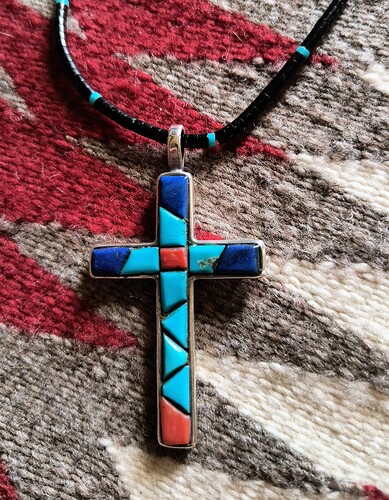 Thank you, it's by Navajo Phillip Guerro. I bought it years ago at a Native American jewelry store in Dallas at the Galleria of all places! I was there for a figure skating competition, and my skater was getting in a little extra practice time at the rink in the mall (don't know if the rink is still open). Of course I had to get a little shopping in