no match found
only 3 examples found in Houbarts of U.S.A. included with a hallmark
none match font stamp of your cuff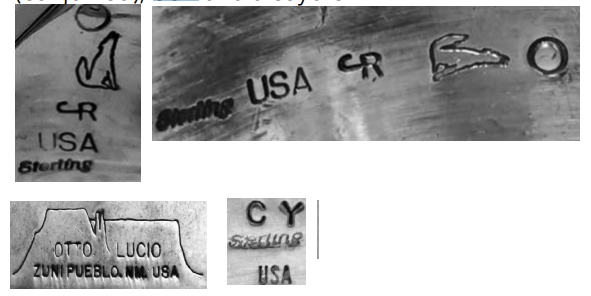 So what does that mean ? Can I even find it anywhere ? Is it a real stamp? Any help would be appreciate
No there is no reason to freak out. Not all marks are documented, especially if it's earlier or the artist didn't create many pieces. I have things that I can't identify that I've had for years. Some I've gotten lucky and stumbled across after a couple of years. There is also the chance that the artist is Anglo and wouldn't be in a Native American hallmark book. No book is infallible. Just yesterday I was messaging with an artist who asked me about two cuffs that I was wearing in a photo. Neither was hallmarked but he told me who he thought the artists were because he knew them and their work. That was a wonderful surprise and I check the hallmark book. One isn't listed.
You have a great cuff. I would just wear and enjoy it.

Thank you it was a gift I do wear it it is beautiful I was told it may be zuni . But thank you for your info I really appreciate it.