Got the info & insight I needed. Thanks, friends!

uhhhhh no. I personally would not. Have you contacted Perry Null? There are lots of rock hoarders out there with deep stashes of stones. you just gotta find the right one. There's a turquoise miner's group on facebook too.
Likewise. I can't fathom turning to a random India vendor for an AZ stone, with tremendous quantities of Kingman available from reputable US sources. It'd have to be a situation of unobtainable otherwise.
nope
if you want something so…cheap/plastic looking…why don't you just get cheap plastic & make your own?
You did ask for input and got responses based on experience and knowledge, i.e., genuine insight.
Hope you find a resolution that works for you.
I appreciate the insight—I deleted the post because you & the other commenters have provided me with the insight and answer I was looking for. It's greatly appreciated. The only reason I was considering this option is because I'm looking for something very specific, and I've reached out to many lapidaries that have not been able to assist in what I'm looking for.
i don't think you need a lapidary, you need a turquoise miner/hoarder, or a silversmith with a deep stash. Dayton Simmons is one on facebook, he can match damn near anything - no lie.
Thank you so much. I just reached out to Dayton.
I did find a 12.5x24.5 cabochon from Barlow Gems based out of Phoenix. This is pretty close to what I'm looking for. I'd prefer a cabochon with backing for protection, but this is a definite option. Turquoise Cabochon #20 - Barlows Gems
When you delete the post, future readers cry all night because they do not know what the original problem was.
No need to worry!

You didn't miss anything exciting—was just asking for advice on a specific stone from India. I've found a US based lapidary that was able to find the stone I needed!

Hi friends! I'm happy to report that I was able to locate a Kingman cabochon from a US based family that's been mining & cutting stones for approximately 46 years. I was also able to find an old stock Kings Manassa cabochon. I've attached photos.
Thanks for your encouragement and insight to stay away from non-US based sellers. It's greatly appreciated.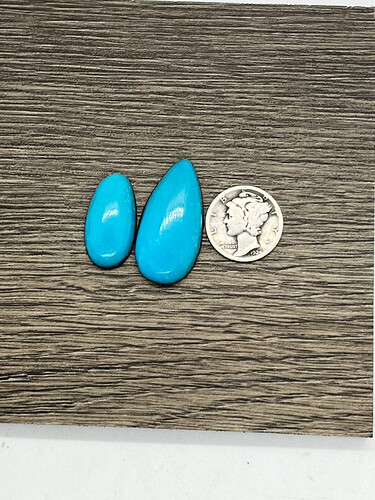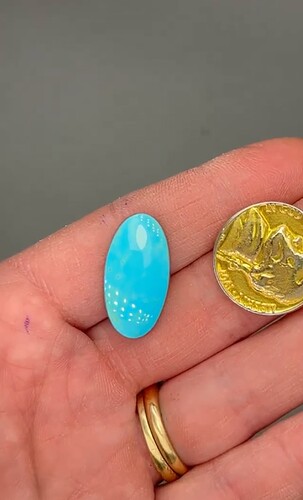 One of those is Kings Manassa???
Glad you found a something from the US of A!!!
Yes, me too!!
The first two cabs are Kingman, the second single cab is Kings Manassa. Came from a lapidary that primarily sells old stock King's Manassa. I was surprised at this cab too—the seller & I were both blown away at its clarity and striking blue tone.
Interesting. Yes beautiful blue, I'm just someone who prefers matrix.
I also prefer matrix!

But for this specific ring, we were looking for a cabochon with the least amount of matrix. I also snagged another King's Manassa cab with some matrix just to have on hand.