I'm Kay in Michigan. I like NA jewelry as a kid. About 10 years ago,I was on a trip to Nevada and fell in love with an inlaid bear pendant the store told me was by Calvin Begay. I wore it a lot and it was pretty much my signature piece.
I was devastated when I lost it years later, so I joined here looking for a replacement. To make a long story short, I bought several other inlaid bears, learned more about NA jewelry and became more passionate about it. I visited friends in Santa Fe and learned even more in the shops and museums. I picked up more pieces along the way.
Now, I have decided that Hopi silver overlay is my thing and I think I'll try selling some of my other pieces.
Here are my Hopi pieces: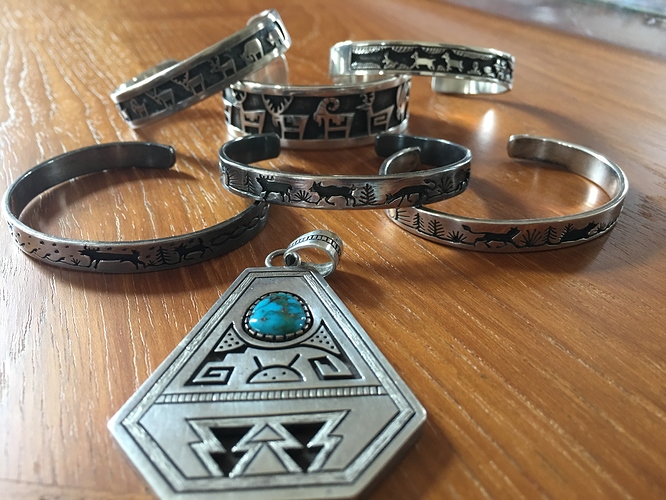 The front pendant is by Roy Talaheftewa, the next row are three Vidal aragon bracelets (I'd sell two) and the back row are two Bueford Dawahoya bracelets and a Robert Becenti storyteller. I wouldn't part with the one inch Dawahoya.
Here are my bears. The original one (middle, top row) turned up years after I lost it. It wasn't a Calvin Begay after all, but a BG Mudd.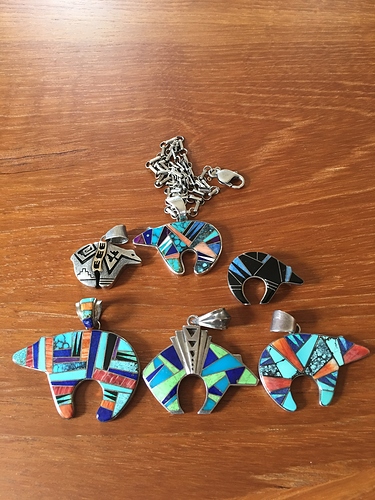 Here are the things I'd be interested in selling. The clip earrings are Bell Trading, the bracelet is Sarah Chee (I think), the silver beads are hallmarked RT, the fetish necklace is from the 1960s.
I'd love anyone's comments, observations or advice.