I am not sure about Louella Romero, did see a piece like this attributed to her on a google search. However, I would think to do some research on Danny Romero instead.
Thank you Jason. Yes, I later found Danny Romero and I agree with you. Maybe they were related. I will keep looking.
Would you have any idea of value, please?
Thank you!
Found this in my stash. I'd love some help on the type of turquoise. It seems like a later piece than the bracelet. Heavy silver and it measures about 2" wide and 2" high. I thought this was a nice use of the turquoise on the back.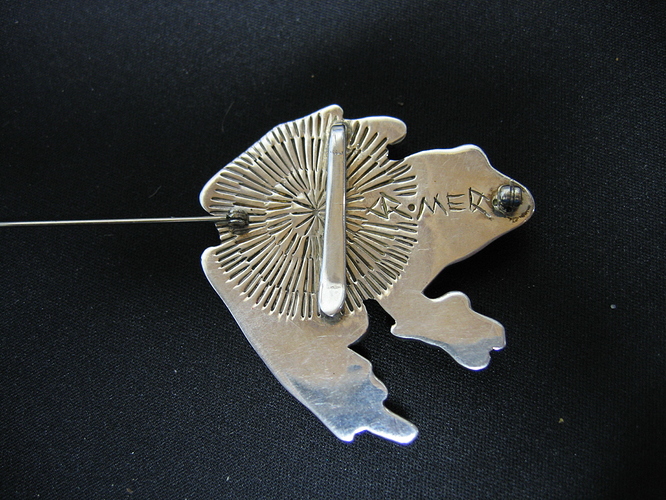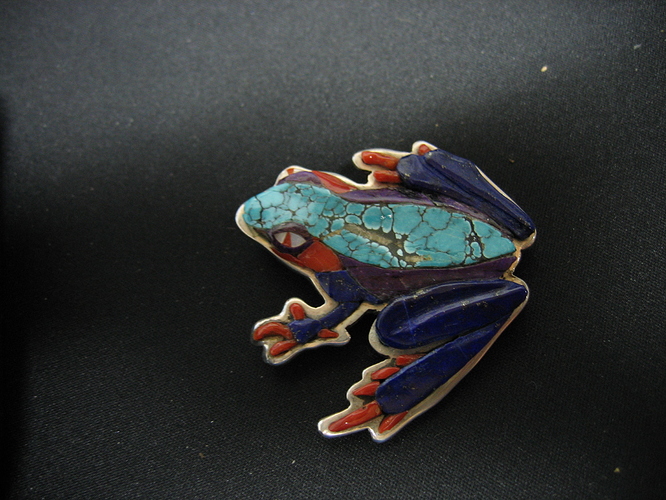 What made him famous were those inlay faces. That frog is amazing. It is really hard to get a feel for what his stuff is going for because it is limited online. I would guess something like $900 - $1100 for that bracelet in a gallery. Love the frog, that is a special creation. Don't know if it would be valued anymore than the bracelet but I do like it a lot more. Thanks for sharing.
Thanks so much, Jason. You are always so helpful. I agree that the frog is special. It weighs over an ounce. Can you give an opinion of what type of turquoise is on his back? Thanks again!
Thanks again! I am trying to learn about turquoise but there's a lot to it.