Guess I could have put it in the turquoise artwork section. She appears to have on a belt with silver on it…
A few years ago, my family and I took a private 4-hour trail ride around West Mitten Butte with a young Navajo guide. He was a hoot! Good kid.
Oh I would love that! But my husband is not a horse person, so

We camped there one time many years ago. It was Sept, and I think we were the only people in the campground speaking English; everybody else was German. My hubby wanted to take a shower, but the visitor center was closed, and the showers would only take quarters, and we only had dollar bills. So he stood outside the shower building, and asked a German lady if she had any quarters for a dollar. She looked pretty freaked out, and he realized she misunderstood him, so he quickly said, "I mean 25 cent pieces." She thought he was asking her for a place to stay for a buck

Needless to say we've had many laughs over that.
Here's a photo from our last trip there in 2014.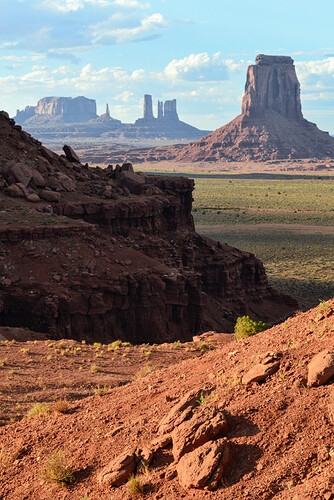 That's a funny story! We stay at The View Hotel in the Tribal Park that overlooks the valley. We've been to Monument Valley three times in the last eight years. Love that place.
Just north of the valley off of Highway 164, we hunted down the hanging arch that was built for the movie, Once Upon A Time in the West (1968). Believe it or not, remnants of the arch are still there with nothing but canyons surrounding it, as far as you can see. Here's a photo of the area from the internet.
I knew I had seen that view of the valley before. It's in the book…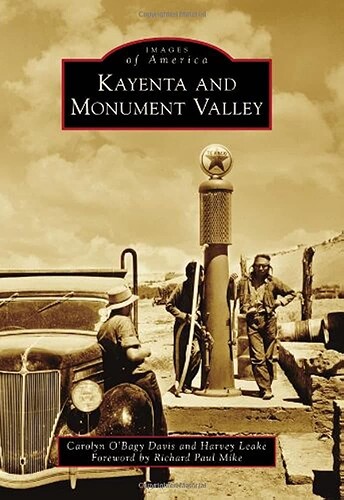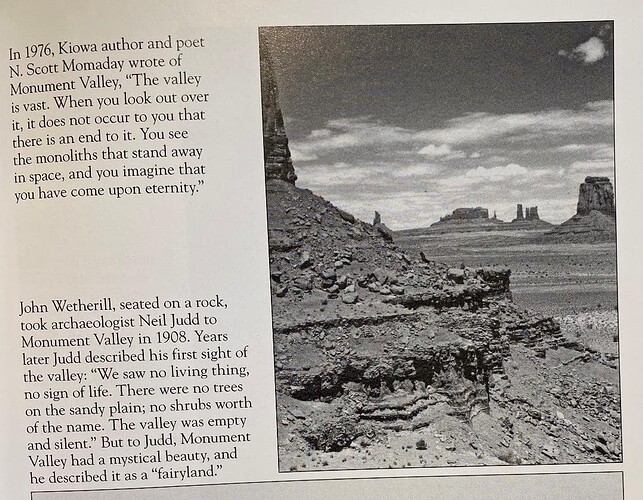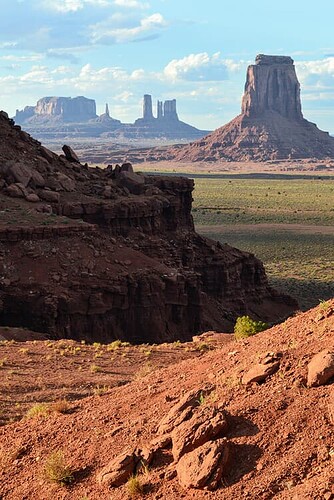 You have a good eye for photography.
That view kind of jumps out at you on the short trail, but thank you! My dad loved photography, so it stuck with me. We had a point and shoot forever, till finally gave in and got a digital. But I still insisted on a viewfinder and the snapshot sound

Last time we were there we went in that hotel to look around, but we stayed at Goulding's. I've read so many Hillermans that I could picture Jim Chee eating green chile stew there. We might get back out next year.
I'm assuming that arch was hard to get to, but worth it!
Britwest does a lot of her photography at Monument Valley, so I love to look at her photos.
It's always a toss up. Goulding's has the history and The View has, well…the view.
I guess it's kind of hard to take a bad picture in Monument Valley. Everywhere you look makes for a great photo. I do love the color, shadows, and framing of your photo though.
If you know where to turn off the highway, it's an easy flat drive on a dirt road that leads to the arch.
Again, thank you, I do actually try to think of those things when I take pics.
Have you been to Navajo National Monument, and if so, did you take the guided tour to Betatakin? It looks amazing. I've been there twice, but never had time to take the hike. Last time we went to Monument Valley, I tried to fit it in on the way, but had planned too much in one trip. Hopefully next time.
Oh my gosh… I just looked at the picture of the arch again, and just now figured out why it was called Hanging Arch

OMG, that's too funny!
Quarters for a dollar!
Same as you, been to NNM once, but didn't have time for the tour. NNM and Canyon de Chelly tours are both on my list for next time.
If you haven't seen Once Upon A Time in the West, it's worth the 2hr 45min run time. It's one of my top three Westerns and mostly filmed in Monument Valley. It has everything - story, acting, scenery, and a beautiful soundtrack by Ennio Morricone. Highly recommended!
He's the composer for the Clint Eastwood westerns, right?
of course I don't recall publisher,etc. but just read an article about recent chaco canyon building research…what wood used,when,from where.
My brother was a prolific reader, and before he passed last summer he left me a whole bunch of historical books on the southwest (and Canada, which I'm weeding through now). There's some in there about Chaco. I'll have to eventually get through them. Your post made me remember them.
btw…hunt up Asleep at the Wheel doin' Route 66
yeah,my first major road trip…lol
Please send me that lovely buckskin.