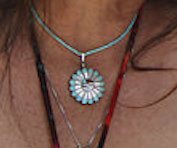 *I had this Beauty and sold it on Ebay few years back . I now am looking to replace the exact same thing with or w/o turqouise heishi. *
Andrew Laahte's signature hallmark on back stamped AL below Sun on plate… *cant enlarge pic w/o pixels making it fuzzy.
Thanks Keep well all.