This will be a Gallery of Mistakes that I made during my quest for a cluster bracelet. This is meant to be a cautionary tale. Don't do what I did.
Once I wanted a cluster bracelet more than anything else in the world, except maybe a squash blossom. I was around for the 1970s Native American jewelry boom, but I was a child. My mother worked in a saddlery shop that also sold very good jewelry on the side. The owners made trips out to Arizona and New Mexico every year and brought back inventory. I was often present in the shop when my mother had to take the rings, bracelets, pins and necklaces out of the glass cases and lock them away for the night. Sometimes I got to handle them. But unsurprisingly, my mother never bought a cluster bracelet for a 12-year-old child.
Flash forward years later, and I'm an adult with a mortgage half paid off, and my mother, now in her 70s, starts giving me her old jewelry, saying she's not wearing it and wants me to enjoy it. Nope, no cluster bracelet. But I did get some nice things, which sent me to the Internet to get info, and then eBay listings, and I started pricing these bracelets.
To my childhood self, who had no sense of money, every squash blossom costs a hundred million billion jillion and a cluster bracelet cost a half million billion jillion. As an adult, after looking at listings and "sold" items for hours, I got an idea of the outlay.
Here's where I went wrong.
I should have then gone to a reputable dealer, made my choice, paid my fair price, and I would have immediately gone home with something beautiful & worth my investment.
But no, I decided to do it myself, and to keep looking on eBay and find a bargain.
So let me show you how that went.
Here's the first cluster bracelet that I bought.
The uniform color, which you see in older pieces, appealed to me, as did the design and stone arrangement.
[url=https://imgur.com/uePrBvB]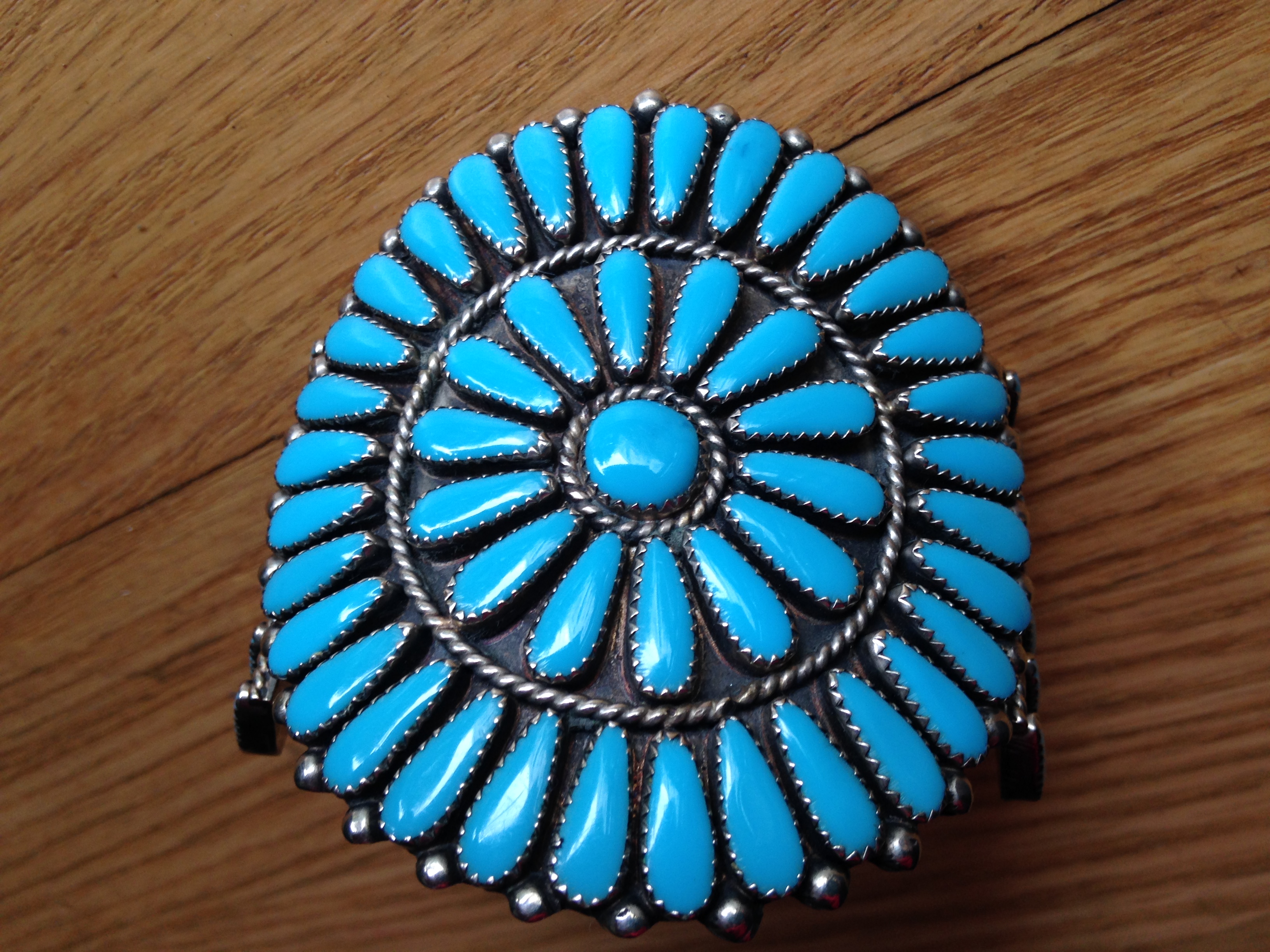 [/url]
It does have some age on it. It's a great look – it looks very nice on my wrist. I get compliments on it all the time, even in Arizona.
But it's nickel silver, which means it has no silver content. Also, that's block turquoise, which is artificial turquoise, which may or may not have some ground-up turquoise components.
I discovered what I had immediately after opening the package and comparing it with the real stuff that I got from my mother.
Here's the second cluster bracelet that I bought.
I wasn't going to fall for perfectly uniform, robin's-egg-blue stones this time. I was going to find something in which each stone was individually worked and showed evidence of handwork.
[url=https://imgur.com/a33BaXt]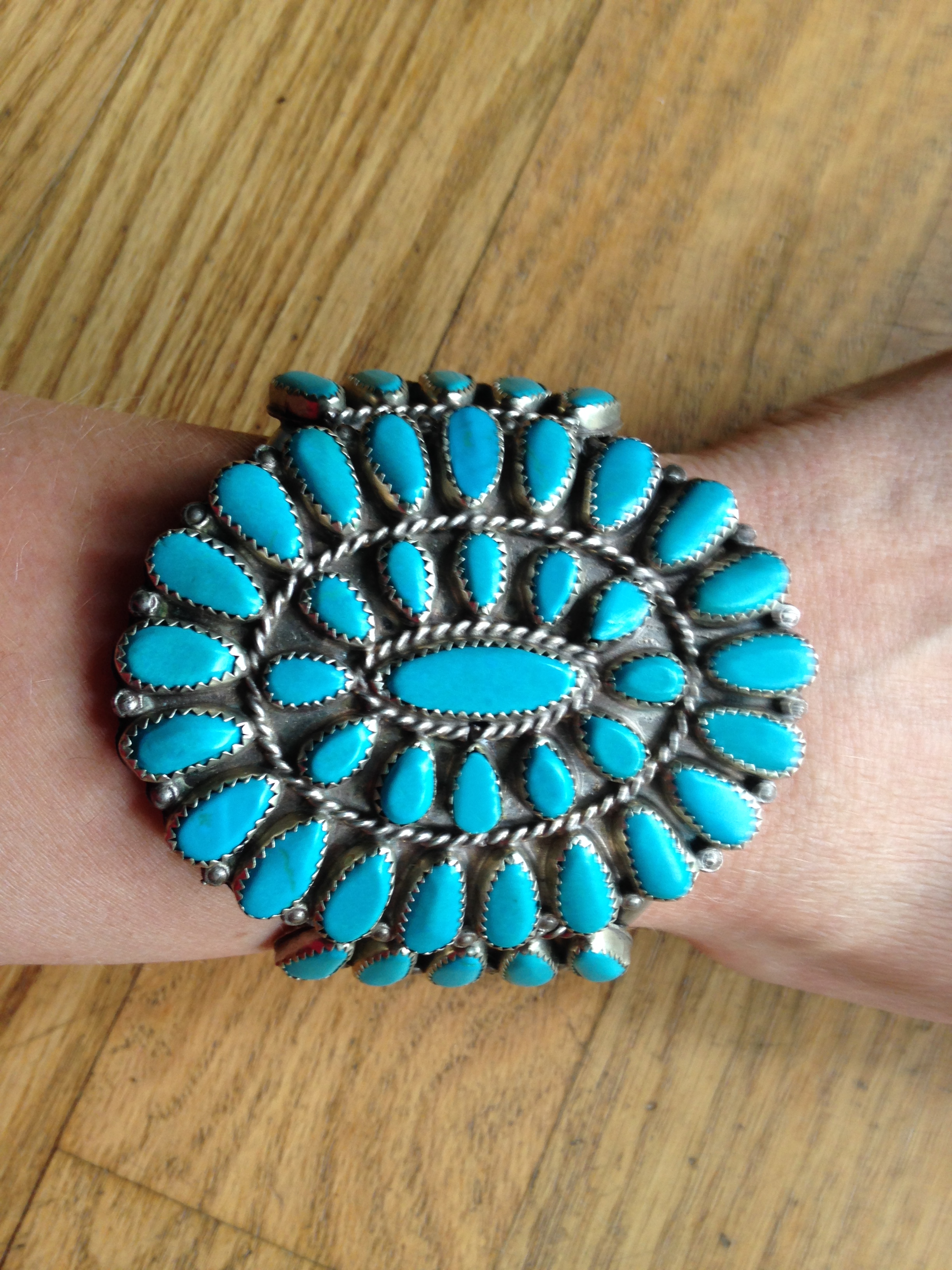 [/url]
Again, this one has some age on it. And it looks pretty good on my wrist. Again, this one gets compliments.
But it's nickel silver again. And it's block turquoise, but of another kind – rather grainy, greenish with age (which the lighting doesn't show). I suspect this is reconstituted turquoise which someone hand-cut to use.
I figured this one out pretty quickly, too, because the texture of the stone reminded me of block turquoise stones I'd seen in some Harvey era snake eye bracelets.
Here's the third cluster bracelet that I bought.
Tired of nickel silver, I looked for the Sterling stamp. This one also has initials stamped on the underside.
Also, you can see some variations in the stones. Looks like matrix, which the other two bracelets lacked.
[url=https://imgur.com/CiajMTs]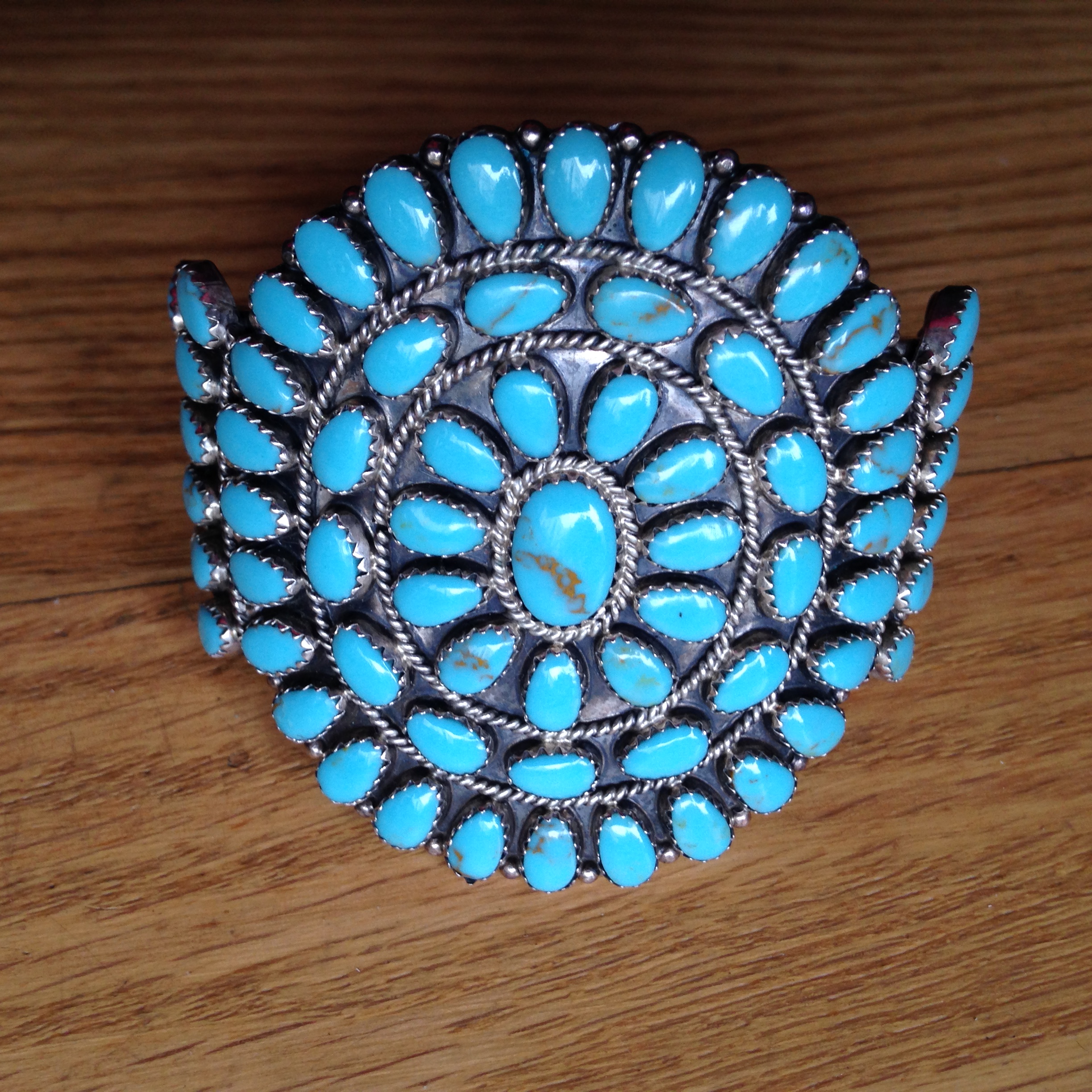 [/url]
[url=https://imgur.com/Hy7c4Aa]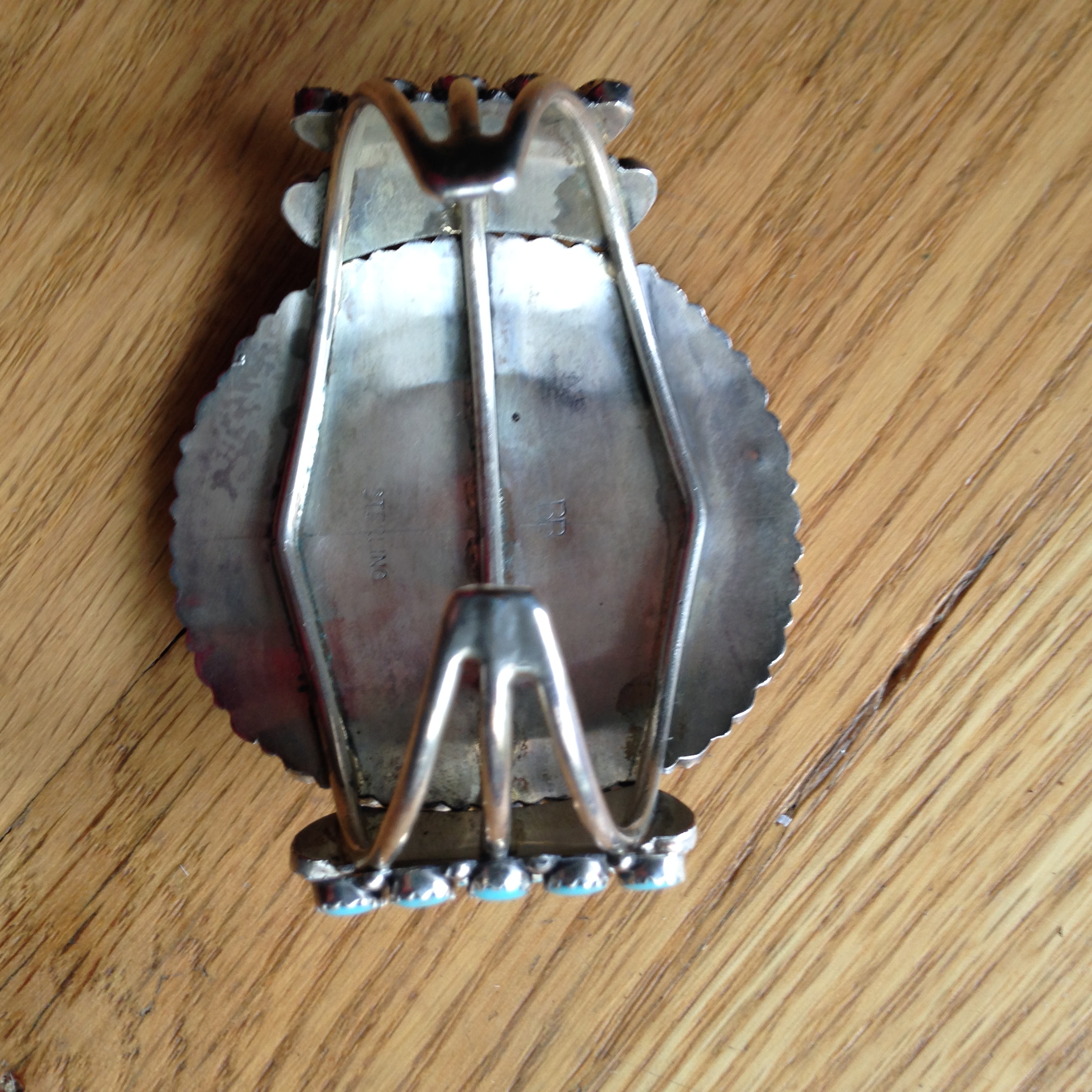 [/url]
Nope, it's block turquoise again, but a little bit of golden coloring swirled through it to look like matrix in a real stone.
I think I knew when I opened the package, but I was in denial for a few days afterward.
Again, people like this when I wear it. I'm the only one who knows.
Each bracelet was sparsely described by the sellers, whom I do not think were trying to deceive me. I don't think they knew what they were selling, either.
Each was inexpensive, which should have tipped me off. But I was bargain hunting, and gambling, which I shouldn't have done, because I wanted a particular quality, the kind shared by the jewelry that my mother worked with and purchased back in the 1970s.
If I add up what I spent collectively on my three purchases, I'm starting to get close to what a decent cluster bracelet would cost.
All shared here to reinforce other informative posts on real or fake turquoise.
(BTW, yes, I did finally get my cluster bracelet, and it's really a decent little guy, but I'll save that for another post.)