I got this today. Can anyone source the stone ?
Possibly old morenci. The closest I can find.
It is a nice stone, possibly a piece of Lone Mountain.
Originally I thought the same. I do believe it is either lone mountain or morenci. if you look at the details in morenci… like the pits from the host rock… it has that rusty red. Most people assume pyrite is the main distinguishing element. but not necessarily. Especially in the older cuts they seem to have a dark red pits . I 100% agree it very well could be lone mountain. The matrix seems a little more blue tho. The closest I have found Is called water web morenci. It's kind of like a birds eye
One issue is the camera makes it appear to be more green than it looks to the eye. Its almost like a deep ocean blue and some rusty red spots. the pic makes it look green with brown spots. Or least that's how it registers to my eye anyways
Here is a documented water web Morenci cuff made by Navajo Billy Goodluck in 1933 and was part of the C.G. Wallace collection. It was sold through Bonhams, however if I've learned one thing on this forum, a turquoise stone can "look" like it came from a number of different mines.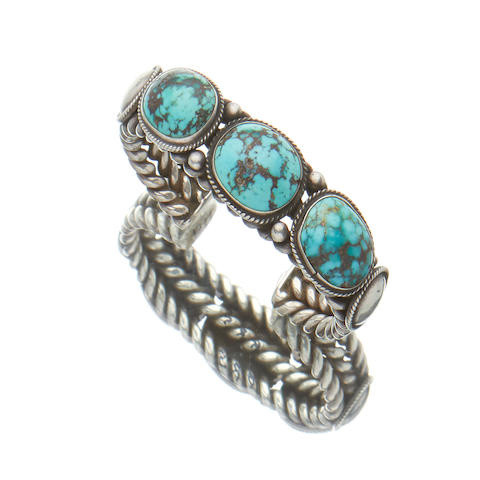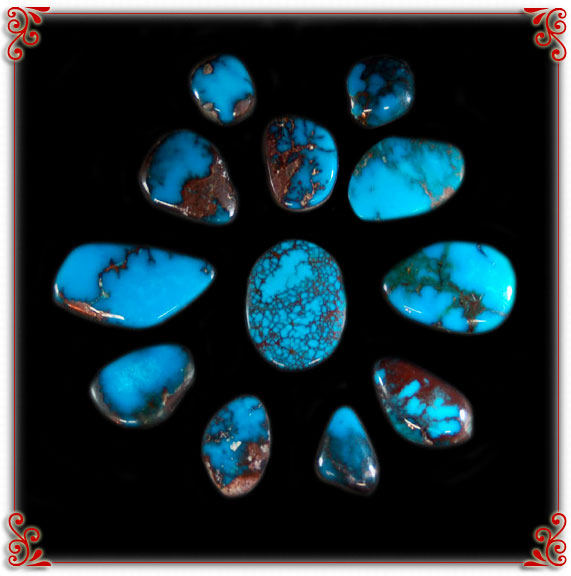 it's really close to the middle stone. My camera makes it appear more green than it actually is. Or my eyes are seeing it wrong. but without province it's all a guess really. I've seen different colors and matrix come from different mines. I have one I was told could be anything from light blue kingman or a slightly darker dry creek. it's hard to nail down sometimes. Sometimes it looks exactly like one mine but from a different. lone mountain is a really good guess. But it's a different color than the picture makes it out. Let me get a better picture and see what you all think. I really appreciate the input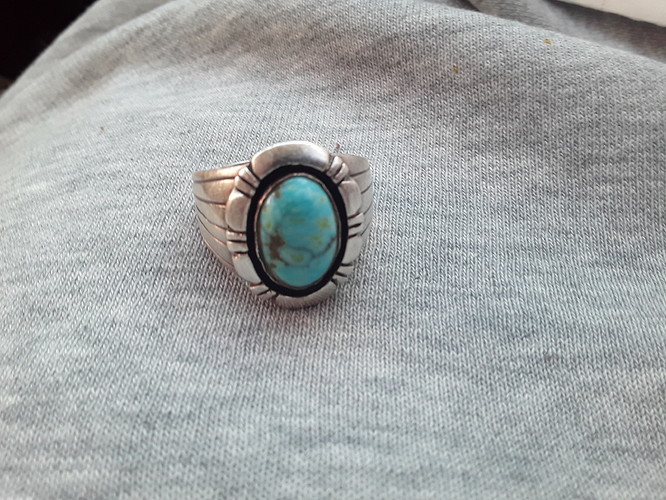 This is the one we can't figure out either. But it looks remarkably like the stones in the bracelet. its probably just a pale kingman. The other ring is sustainably older. If you look at the bottom of ring one it takes a long time to wear like that. Wear very similar to an old coin from the 40s through the 50s. Maybe early 60s. So whatever mines was producing turquoise then should give us an idea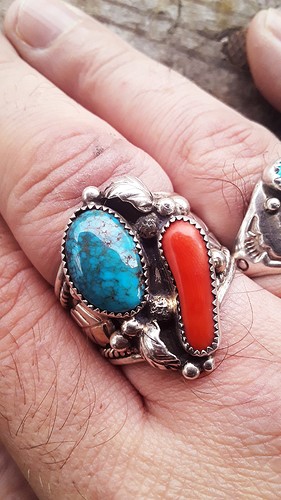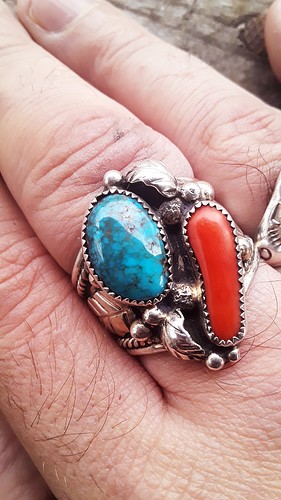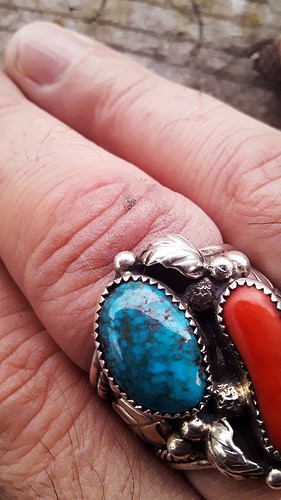 it would be hard to get the right assessment with the wrong color. After several tries the only thing that I needed was natural sunlight
This ring is amazing.
-Shelley
Thank you very much shelly . Yes it really stood out to me. It has alot of miles on it. The more I look the more intrigued I become. My head fills with wonder of the stories it could tell. The rope wire is worn smooth to the band on the bottom. It was probably worn daily by someone who gripped something alot. Maybe a trucker or a biker or plain old factory worker like myself. It holds its secrets for sure
i love the pieces where you can really see their mileage.
You can definitely see the mileage it
That is such a beautiful piece. enjoy wearing it!