Maybe it's Persian???

Great pic! Thanks for sharing.
I must admit, I'm remembering a post from about a year ago about someone that thought they found turquoise growing under their tree. Even better, mine grows on the outside of the tree

Oh my that's gorgeous, and what a lucky find! Nothing beats Ma Nature for color.

before I forget…again…marine city's doin' a powwow the 13th. dunno if that'll fit in your "up-north" trip but now you know,eh?
look up "clay days powwow" for info. it's onshore from walpole island
What color!
Robins make really nice nests.
Mama better come back right away and sit on 'em!
I'll look it up, sounds interesting, although we're not going up till the 17th. But thanks for the info, maybe some year!
They do! She was back within a few minutes after I took the picture. However, the nest is not very high up in the tree, so I will worry about the babies.
One year a cardinal made a nest in our clematis, and it had a gold ribbon entwined among the twigs.
I found one of these gorgeous organic turquoise today. I put it in the chicken coop and will wait until my hubby finds it.


So this am as I was tacking up the horse I ride, I noticed a little swallow's egg lying broken on the rail (they have nests in the rafters above). I turned away for a bit and then noticed he was smacking his lips and shaking his head around. Silly horse ate the egg! I think he was surprised that it didn't taste like carrot. At least it wasn't turquoise…
Years ago when our area had lots of egg farms, you used to be able to get the odd sized ones pretty much for free and mix them into the mash for horses (mostly horses shown in western pleasure and AQHA shows and events). Their coats would get all nice and shiny during show season.
Hmmm…my turquoise hatched…
You must post baby bird photos!
Without upsetting mama, of course.
Yes

Congratulations to mama
I'm afraid to get to close now; one year I scared them out of the nest (although they appeared to be ready, they even flew some). But I have a great view of them. The tree is right by the corner of the house, right out the window (but can't get a good pic from there).
Edit: You can kinda see one of them in this photo through the window. They're so funny! They look like they may leave home soon…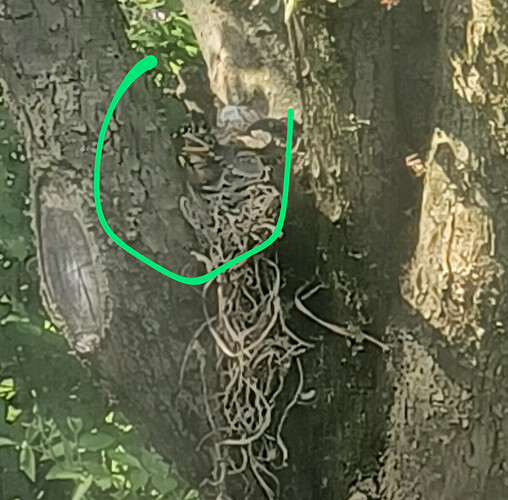 They are bigger than I expected. It may not be too long before you see more organic turquoise. It seems like they lay more eggs shortly after the chicks leave the nest.
Cute! It's so much fun to watch them grow in the nest.
They've all left the nest except one last baby who just can't quite make himself go. Yesterday there were four, this AM two, now one. He hops to the edge, and then back inside. I saw one of the others flying around the yard. Go baby, you can do it! Maybe then I'll get some more organic turquoise

Edit: Last baby left the nest!