Very nice! I have lots of red Coral beads in a container. I did read that its not naturally red that it is dyed. Regardless the red is beautiful. I actually have some that may be the natural color before its dyed, Its rather a pale orange color. Wear your lovely piece this summer! If you need earrings to match let me know as i make jewelry.
From here it looks like, coral but it would be helpful to see more images showing the entire item.
Natural red coral was once available. The harvesting of it was banned, but it is still being harvested.
I know its so sad. All of my coral is from the 70's. I was told 15 years ago they were going to stop the harvesting of coral, but like you said it continues. Recently a Stunning Coral rief was discovered. Un affected by polution or harvesting it looks pristine. I think they decided to keep the location a secrete…thank God.
I have some 1980's red coral cabochons, drilled pieces and jewelry from when I lived in AZ. Some newer, dyed coral.
When selling items I just let potential buyers know when I acquired the coral and what the regulations were then.
I do state if it is natural or dyed red. It is becoming easy for me to tell the difference.
Yes i tell them how old yhe coral is too. I actually bought most of mine from a designner from New York who made purses and belts in the 70's. Quite the hippy Lol. Im interested in how you tell the newer pieces from the older. I have 2 really big red coral beads. They kinda look old as they are not real shiny. I have had them for a few years, i guess one day they will speek to me.
Mostly by when/where purchased.
If I see a used necklace for sale, I try to look where the pieces were drilled. The dyed coral usually has a lighter area where drilled.
Dyed coral often does not show character, like an uneven surface. It is usually completely smooth and uniform in color on outside surfaces.
Here is a necklace I have from 1986.
The coral was purchased as natural, red coral, from a reputable jewelry supply store.
I think it was about $50.00 for a 16", granduated strand. That would be about $130.00 with todays money value.
They also had coral strands dyed red and other colors. Those were less than half of the natural red.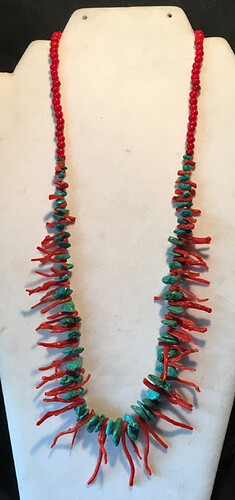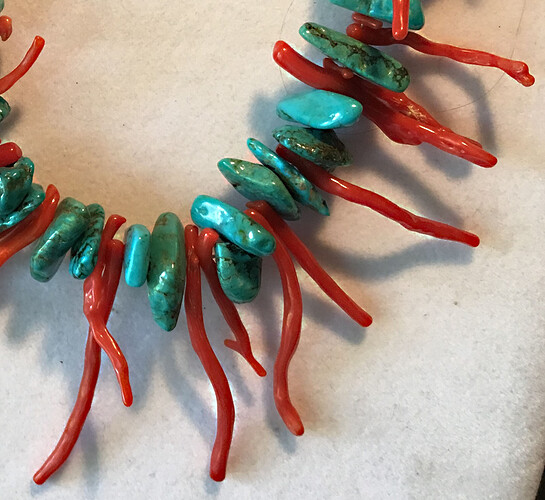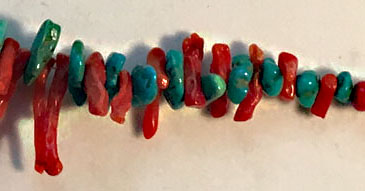 You can see some irregularity in the coral.
Here is an article about coral.
Thank you so much for taking the time to teach what you know. I thought i would take a min and show you my box of Coral. Lol, treasure!