About 20 years ago my husband and I were on vacation in San Antonio, and just happened to be there during the San Antonio Stock Show and Rodeo at the Alamo Dome. The city held a big market for the rodeo at their smaller stadium, and we went shopping. I was at a booth that had some cool cowboy clothes, leather goods, buckles, etc, but no Native American jewelry except this necklace.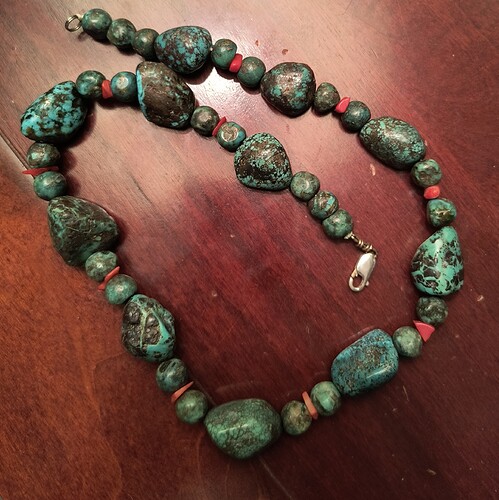 I asked the owner about it, and he said he had a Navajo friend who wanted to buy some of his clothes, but didn't have enough cash at the time, so they made a trade - clothes for the necklace. He couldn't tell me anything about the stones ,because he really didn't know much about turquoise. I loved the stones, but they puzzle me.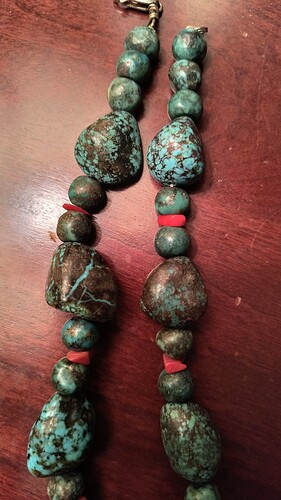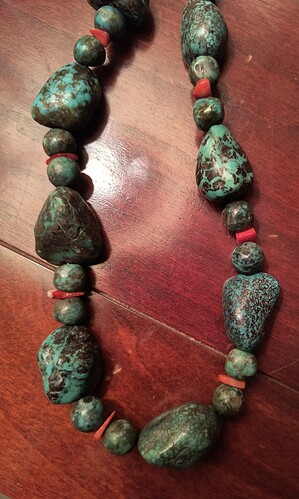 The stones are pretty deep blue, and there is seems to be a lot of variety in them. The round beads look to be carved; they aren't completely round and have some flattened surfaces, and aren't exactly the same. I see some of that black chert that we have discussed on here previously in a couple of the large stones. There appears to be a bit of pyrite in a few. My questions are, any guesses on origin, and do they look like they are even from the same mine?