Looking to raise some funds for a flight back home!

I thought I would post them here first.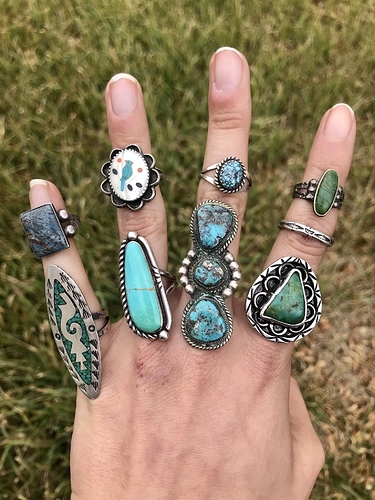 -Pinky Top: Harvey style vintage lapis (size 6) $35
-Pinky Bottom: Early Tommy Singer chip inlay (size 6) SOLD
-Ring Top: Blue bird inlay ring (size 7.5) $60
-Ring Bottom: Turquoise ring signed L.M.Y. by Larry Moses Yazzie (size 9.5) SOLD
-Middle Top: Spiderweb Hubei turquoise (size 8) $45
-Middle Bottom: Three stone red web Kingman with pyrite (size 8) SOLD
-Index Top: Fred Harvey ring with hairline fracture (size 6) $38
-Index Middle: Carolyn Pollack stacker (size 7.5) $28
-Index Bottom: Navajo Ring (size 7 3/4) SOLD
Please let me know if you need closeup pics!