Fantastic, @AC! Sunfaces, with their cheery disposition, have a way of turning a cloudy day into a sunny day. Awesome photo.
Thanks @TAH, I'm glad I started with them then, because the sun is out this morning for the first time in many days! I'm working on the Knifewing/Rainbow man group shot but their dispositions are not quite as sunny as the Sunfaces. Lol. Hope everyone's having a good Sunday.
Wowza! What fun! A wonderful collection. How about posting it again with the artist identification?
Here you go! At least the ones I know anyway.
1 Larry and Lorinda Dickson
2 Anna Lee Tekala
3 Unknown,
4 Larry and Lorinda Dickson
5 Unknown,
6 Morris and Sadie Laahte
7 April Unkestine
8 Walter and Betty Lalio
9 C. Dickson
10 Unknown
11 Unknown
12 Unknown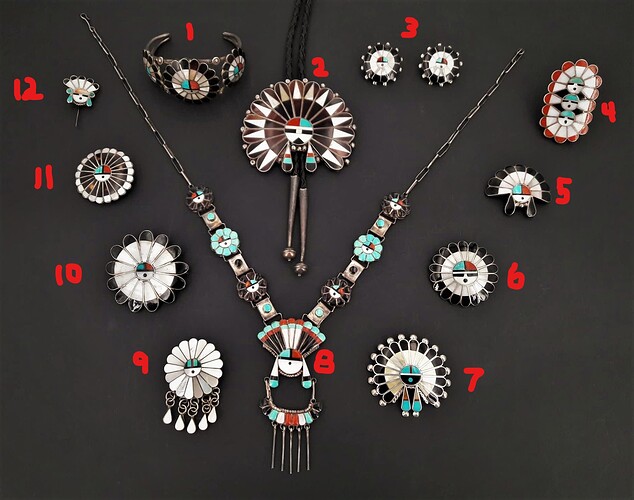 That was quick! Thanks!
I'm not familiar with Larry and Lorinda Dickson, but love your pieces. I'll look them up in Toshio Sei's books. I like your idea about a post involving Rainbowman/Knifewing pieces!
I don't think you'll find them in Toshio's books. They are in Volume 1 of "Zuni the Art and the People" as well as Hougart's and Barton Wright's books.
Thanks, yes I really enjoy the 3 vol set, "Zuni the Art and the People". I'm surprised they are not in Toshio's books, the pieces you have are beautifully done.
Gimme that ring. Stat.

That's always been my avatar. That'd be like giving away my soul.




Your grouping of Sunfaces is jaw dropping. Thank you for sharing them.
If @chicfarmer or anyone else is craving @AC's ring, there is a very similar one for sale at Garlands right now
It's a beauty all right. Look how meticulous the inlay is.