Stunning!


Congrats to you both. Anything you care to share about the design challenges, etc., please do. Will it be a total one off?
Love that engraving, especially how the design escapes to the frame.
Thanks Chicfarmer & KHMetalwork! Not a one off. It's actually a bracelet design that developed from a rifle floor plate design I did several years ago. The tiny repousse center star is only 11mm in diameter, and I'm rusty at repousse work, so that was a bit challenging,
I'll post an image of the floor plate drawing tomorrow.
Fantastic work, Michael! I don't recall ever seeing a custom Western engraved barrette.
You mentioned a rifle floor plate. Do you, or are you asked to, engrave firearms or custom knives often?
Good morning, TAH, and thank you! All of my engraving so far has been jewelry related. The floorplate was strictly a design exercise for a class I took when I was moving from sketching scrollwork with physical pencil and paper, to Procreate, a digital pencil, pen, brush, and paper app which runs on iPad.
I do plan to do some firearm related work, and am currently working on a scrollwork design for a Springfield 1911 pistol. Posting the floorplate drawing below.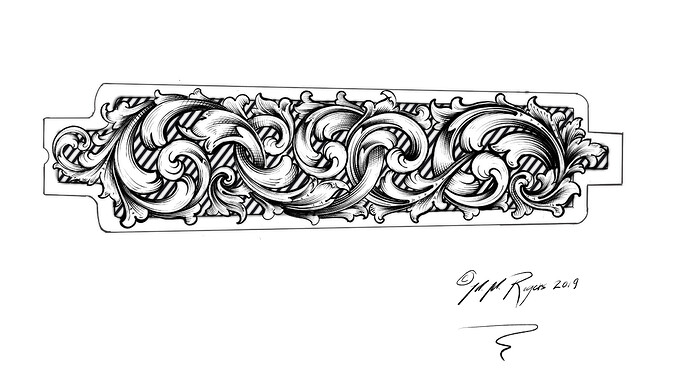 The scroll style in your drawing reminds me of the engraving on a few custom knives I owned in the past. Glad to see your drawing was eventually put to good use.
As much as I love doing art for art's sake, it just isn't in me to let a good design sit around without earning its keep

Would love to see some photos of those knives, TAH!
It's beautiful, thanks for sharing!
Unfortunately, they have all been sold. I was into custom knives for 35 years and then got out of it. The engravers were Ron Skaggs, Steve Lindsay, and Julie Warenski. I only kept one knife by the late knifemaker, George Herron, but it isn't engraved.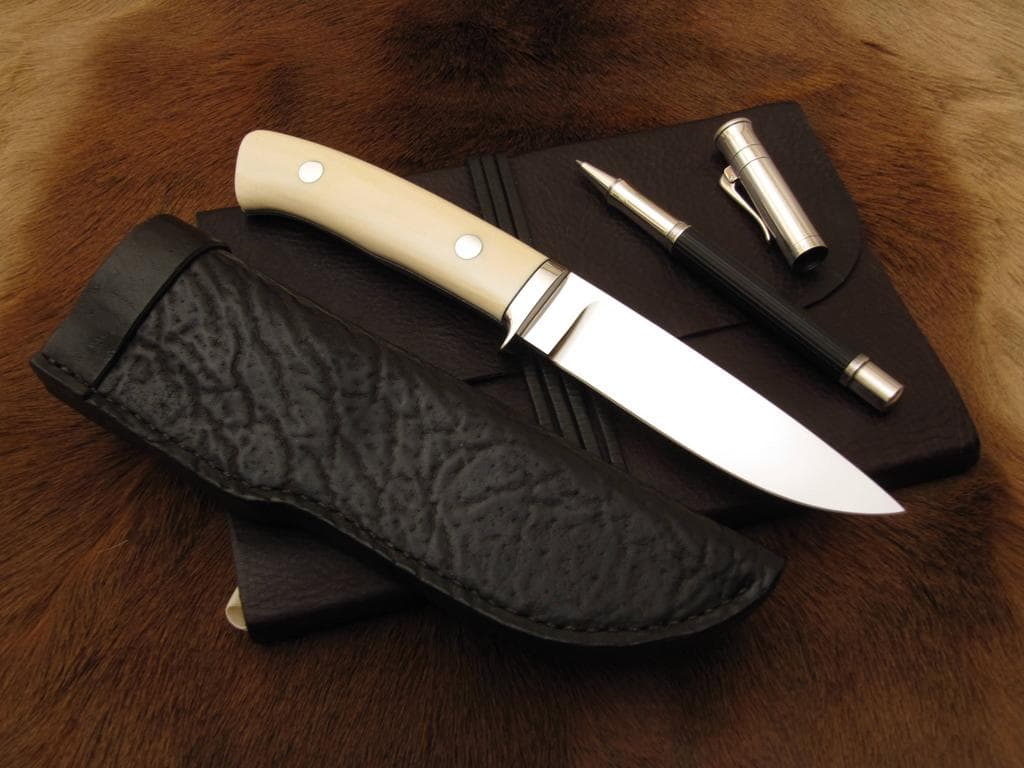 All are absolutely top notch and do or did truly amazing work. The George Herron knife is a beauty, and your photography is next level. You really have an eye.
Thanks Michael! Appreciate your kind words.
Very admirable craftsmanship.
Gorgeous Barrette! I'm sure your wife is thrilled!
Becky
This an amazingly beautiful thing! I have a special appreciation for fine hand work.
Thank you, Sherri. I really love that design.