I bought this Santo Domingo (Kewa) necklace years ago from an older lady at the Eiteljorg Indian Art Market. For the life of me I can't remember her name (and I apparently lost the receipt), but this year I was talking to a younger lady and was describing the necklace. She laughed, and said it was prob her mom; it sounded like something she would do.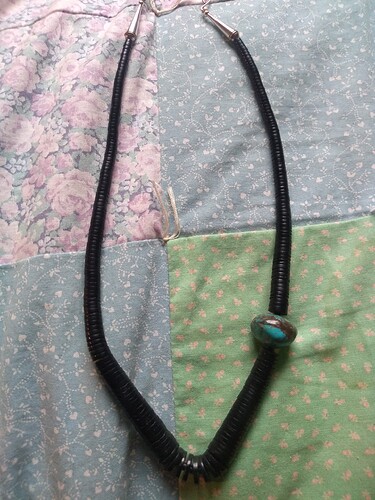 That year I was liking the Santo Domingo necklaces with all black heishi, and this one stood out to me because of the offset turquoise bead. I mentioned how much I liked that, and the woman who made it laughed. She said she was making it late at night, and was tired and forgot to put the bead in the center. She was annoyed at herself and then thought maybe someone would like it off center. Well, that someone was me!

I also appreciate how smooth the heishi is. I read in an issue of Native American Art that good heishi feels a bit like snakeskin when you run your fingers down it. This one definitely has that feel.