I have been wanting to do a post like this for a while.
There is a lot of Turquoise coming out of new, unnamed claims in Nevada.
A few years ago I purchased these from a claim owner.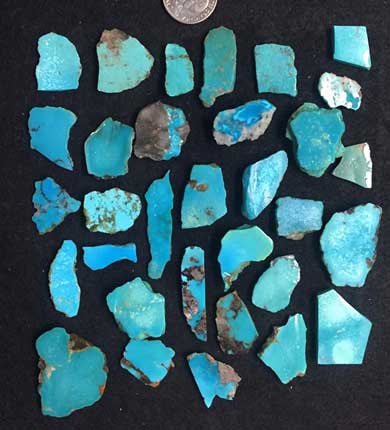 Thunderbird Supply sells lots of vintage looking Silver blanks and findings. Some of these are exactly the same ones they sold in the 1980's and prior.
Check out their web page and do some exploring.
Stabilized Chrysocolla can look a lot like Turquoise.
Here is some chrysocolla I purchased from an estate a few years ago. It was collected in AZ and NM in the 1980's-90's.

Chrysocolla is usually softer than Turquoise is, but can be stabilized to increase hardness.
There are ways of making new jewelry look old.
It appears a lot of new Southwest style jewelry is being made with fake hallmarks similar to those of older artists.