I wanna live there

Oh, I so miss it out there!!
Love the Turquoise Trail! I'm so bummed we had to cancel this year. We thought we might go to AZ next year, but now you two have made me think maybe I need to go back to NM to visit my other nephew.
At least I got to see turquoise blue Lake Michigan water. That's probably the closest I'm going to get for a while.
Oh, lucky you!! We were in NM in 2018 and drove the Turquoise Trail. It was soooo much fun! I bought one of my most favorite turquoise rings in Madrid.
We were there in '18 too! We were also back in '21, but didn't drive the Turquoise Trail that time. We went west on I 40 towards Gallup. However, that time we got off at Thoreau and drove up to Crownpoint (but not at the time of the rug auction unfortunately), and then cut over to Rt 491 to go up to Mesa Verde. Always love to go past Shiprock. We also made time to go to Toadlena Trading Post. Oh good memories!!
Tah, I hope you were able to do some epic shopping

Course you know now we wanna see the ring

My favorite street name happened to be along the Turquoise Trail as well: Ghostrider Gulch. I've sometimes wondered what went wrong in my life where there is a street named Ghostrider Gulch, and I don't live on it.
It's so pretty up there on 14 heading to Santa Fe.
The whole state is gorgeous. I love living in NM!
There was definitely epic shopping going on, but mostly for my wife. She deserved it because we were celebrating 30 years of my wife putting up with me.

Okay, that was just plain funny.
It was funny, lol. Happy belated Anniversary to you & your wife. I hope she found some goodies on that wonderful Turquoise Trail.
Happy anniversary!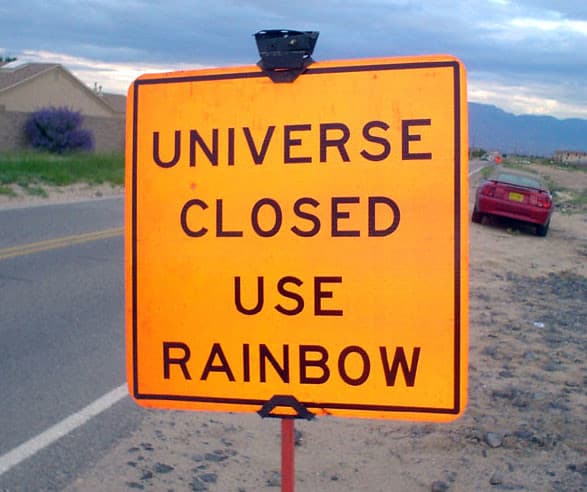 Universe and Rainbow are way out on the west mesa in Albuquerque.
We lived in NM for 13 years, about half of that up in the Jemez Mtns in a teeeeny town called Ponderosa.
@Ziacat Here ya go ~ this is the ring I bought in Madrid, NM. The stone "talked" to me, it's my size, price was right, and it has my favorite ring band - knife edge. I don't even know the type of turquoise. It's hallmarked either "SA" or "AS". Have not been able to identify the hallmark. (Store owner indicated that he bought directly from Native Americans.) The blue is bright & lively, not dull looking like in this photo.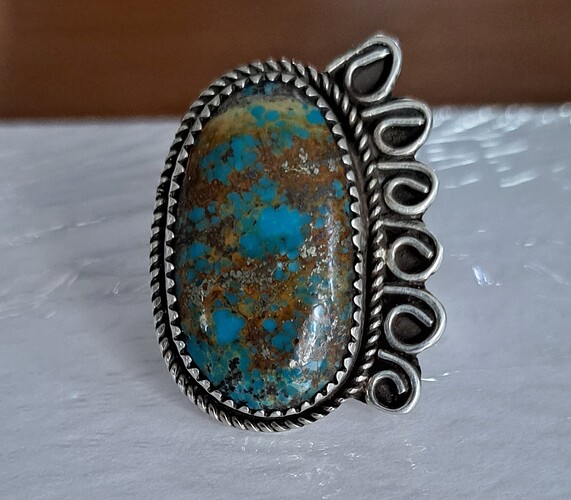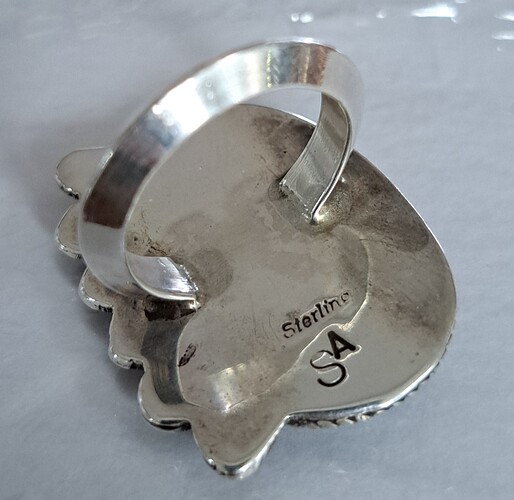 It's beautiful! Love the stone. Thanks for sharing it.
Interesting, I've never seen a band like that. I would think it would rub against the sides of the other fingers, but it looks sturdier. I sometimes get some mild eczema on a couple of my fingers of my right hand, and they can be easily irritated. So annoying.
@Ziacat I rarely see this style band on rings. I own only 1 other ring (non-NA made) with a knife edge band. I like the look and it's (surprisingly) comfortable to wear.
Interesting turquoise, gorgeous blue! So, I'm thinking SA is Steven
Apache (per Hougart) He's Navajo, but I've not heard of him… there are so many! Don't think I've seen this triangular shaped band, but I could have and just forgotten

.
@Bmpdvm Thank you for that hallmark info! The stone is what drew me to the ring, it's gorgeous. I haven't come across another NA/Southwestern ring with this style band. (I had commissioned a ring, and asked the artist for a knife edge band, which she did for me.)