Working in a pawn shop that serves the Navajo & Zuni Indian Reservations, which is the Heart of Turquoise Country, allows us to see hundreds of pieces of jewelry with stones (fake & real) in one working day. Plus, this is where the majority of Navajo & Zuni turquoise art is made. That means Gallup is a main stop on the turquoise dealers trail, selling these pieces of blue gold to the trading posts and supply shops in town, and lets not forget about red gold, coral. All of this means that Gallup is also a perfect location to peddle cheap knock offs of the real stuff and if you are going to stay in business in this town, one known for authentic Native American art, you better know the difference between real stone and the fake stuff.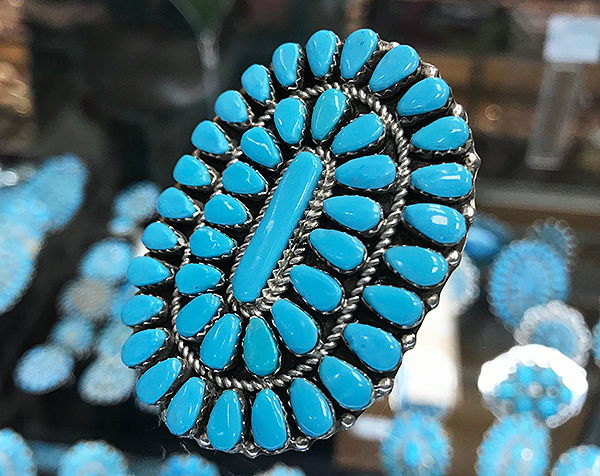 Block Turquoise Pin/Stabalized Turquoise Ring?
Turquoise is a soft material, 4 – 5 on the mohs scale, which means most turquoise can be scratched with a penny. So, it is very common for a turquoise dealer to stabilize the stone. There are many different techniques used for stabilizing turquoise, some even have a patent. Basically what is done is turquoise is introduced to a foreign substance that is going to harden and deepen the color, like a plastic resin. Stabilized turquoise is real turquoise that has been treated and is not considered fake turquoise, but is considered less valuable then a gem grade piece of turquoise. However, some stabilized turquoise can be expensive, an example would be enhanced blue Kingman Turquoise that is very popular with local artisans.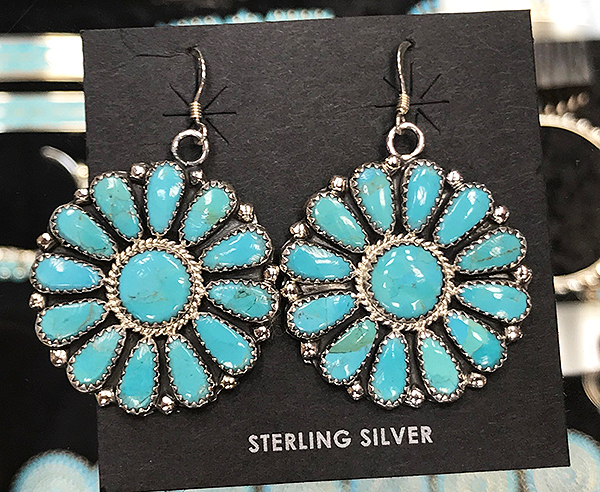 Compressed Turquoise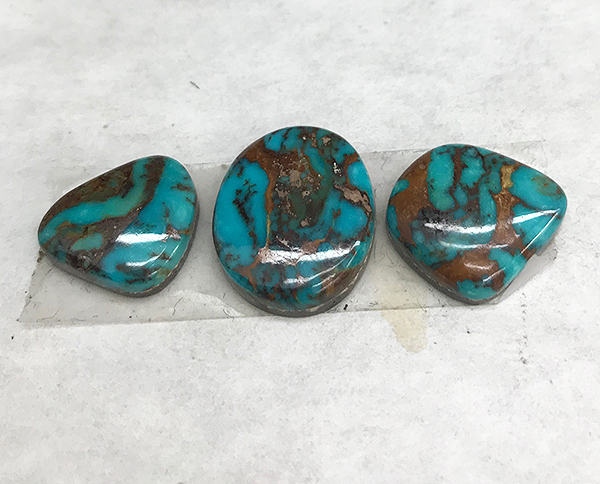 Stabilized Turquoise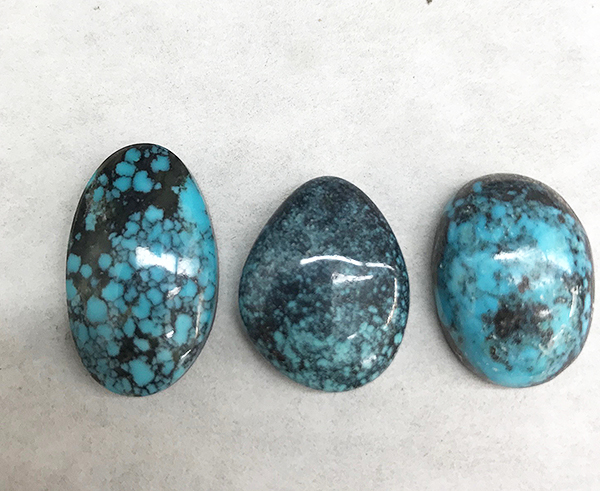 Kingman Turquoise, Chinese Turquoise, Persian Turquoise
Fake turquoise might have many of the same properties that a real stone has and this can make it very difficult to tell the difference. Some techniques take actual pieces of turquoise chips and compress them under extreme pressure to create what can look like a real piece of turquoise. Another techniques is taking turquoise dust or small pieces and gluing them together, that can look very much like a piece of Kingman enhanced turquoise. Then other techniques give you what is very common in the fake world, a block piece of blue plastic, might have some webbing from dye, and this is called block turquoise. Block turquoise is very easy to cut and shape and many times is found in small stone cluster work.

We have the advantage of seeing turquoise all day long and like anything, the more you see it the easier it becomes to detect the real from the not so real. Nothing can replace the experiences of seeing both real and fake. However, things you can look for are:
1.a plastic like appearance
2.scratch it, if a finger nail can scratch it, most likely it is not turquoise
3.look for imperfections, turquoise comes out of the ground and has a host rock and will reveal that in matrix. Some stones have limited amounts of host rock and can make this difficult, but refer back to 1 and 2.
4.fake turquoise is less expensive (in most cases) does the price reflect a lesser quality materail.
5.last, does it look right, a person's intuition goes a long way
6.ask, we have a forum dedicated to your questions
Every year we hear of local and state initiatives to keep imitation Native American art out of shops that advertise authentic Native American made merchandise. Many times one of the helpful clues on whether something is made overseas or here by a Native craftsman is whether the piece has real materials.