Hey there! Introduce yourself and tell us why you are interested in Native American art.
New to site, we buy and sell vintage jewelry and are always looking for education.
Hi, I'm liz and my father was from Clarkdale,Az and he loved anything Navajo and subscribed to Arizona Highways and I love native american jewelry. I just purchased a bolo tie today with the hallmark S.BIZARDIE on it and was wondering if it was genuine. Thank you for any help you might provide.
Greetings from California. Bartleby saying hello and I am looking forward to in all honesty to at best making some long term friends with shared interests with the idea of mutually benificial information, teching/learning, trade, know how,etc. At the very l east I hope to enjoy helping others and sharing my knowledge, gained from being born into a old family with a history in the New England Antique Trade, mixed with spending my adult years in the American SWest. I am a hands on artist with a passion for tourquise as well as many other interests.
Nice to meet u, new myself. Who is we, what do we sell, and where can one find it?
Hello. I just found this site and am really excited to be part of this group. I love NA jewelry and have a few lovely pieces that I would like to learn more about. I also have an acquaintance who sells incredible antique and vintage NA pieces, and I have been really enjoying researching the hallmark stamps and being able to name the skilled artist who created the beautiful jewelry he has. Cheers!
Greetings back at you! I was told this is a good site to research and learn so here we are. We are selling the estate of his brother in law who inherited some native american stuff including jewelry. I have made a couple mistakes with silver beads am baffled at what isn't selling so I plan on doing some homework here before posting on ebay.
Hello and thank you for allowing me to join. I love Native American product and their artists. Roger and Bootz
I have some Turquoise jewelry that i have owned for a long time and have not the vaguest idea how to identify the hallmarks (where there is a hallmark), the origin of the stones, and any information about the pieces. i thought that, after looking at this site, i might be able to get some help.
i was looking at some of the posts and came across the "Hopi/Tewa" buckle and did some research and thought maybe the artisan never completed the scratched in hallmark - so I tried to put a jpg image of what I thought it might be but have not figured out how to put an image in the post.
Anyway, the group looks like they are fun to watch and learn from, so the is why i am here.

That is the symbol you use to upload an image. If you do I suggest you do it on the thread for the buckle.
Also, start a new thread for your images and we will see if we can do any identification.
Hello I just created my account. My name is Joe owner of Joe's Turquoise Shop. I am a non native designer and silversmith with the hallmark "JTS". I am located in Mesa Arizona. I sell Native American jewelry from old pawn to new as well as my own designs. I love turquoise and the history behind it and am always seeking new sources of information.
Hello, I purchased some Native American Jewelry at Bryce and Zion National Park about 7 years ago. I'd like to identify the artist, tribe, and possible value to tell my family about these interesting, pretty pieces. I have a bracelet, earrings, pendant and ring. I'll send more information and photos when I learn how to attach the photos. Thanks for the forum. I'm looking forward to community advice.
I am interested in viewing your work. If possible, please tell me where, etc.
Bit new myself Joe. I am in the market as we speak for 2 items.
Frank Vacit being most important.
Regards, Bart
My wife Nita and I have received several pieces of Turquoise/Coral jewelry from my mother and my dad has recently started giving me some of his Turquoise. We lost my mom in 2015. We went on vacation in Colorado last summer and I told my wife to wear the reversible squash blossom. When people would compliment her on it, she would reply that her mother in law gave that to her. Most of the jewelry they had bought in the late 60's and 70's in Santa Fe, NM. We started looking at turquoise and we both are hooked on it now!
We don't see alot of turquoise here in West Texas. We just got home from a trip this week to Santa Fe, NM, Albuquerque, and Gallup. We purchased a few pieces and had a great time. I found this site and had to join up. Great site. Love looking at all the jewelry people are sharing! DSCF3590|375x500
I'm new, but have been watching, and collecting Navajo and Hopi pieces for some time. I am retired and a native of Arizona. I hope to be able to identify a couple of hallmarks that I have not yet found in the books or the on line site.
Hi, I first got exposed to Native American Turquoise Jewelry because my grandfather who was born in 187
4 had a ring and I admired it. My mother wore it after that and now I have it. As a child I was taken to AZ and allowed to buy some small rings at the Harvey Trading Post. I have been given and bought turquoise and silver jewelry over the years and love it even more as I get older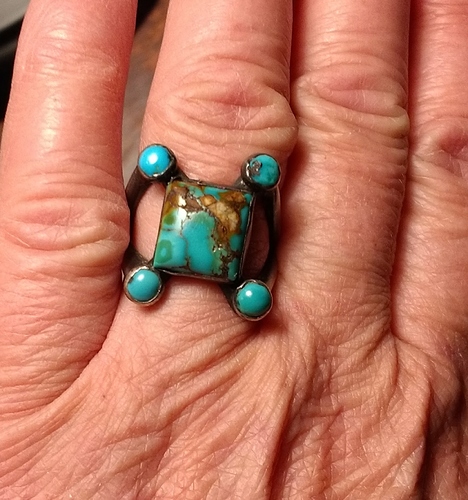 .
Hi everyone. My mother started collecting Native American jewelry, pottery and art about 75 years ago. I got caught up in collecting with her as I got older. We spent many vacations in New Mexico, Nevada and Arizona. Love all my jewelry even though it's not appreciated much in the midwest where I live.
Hi, I'm from Texas, love collecting Turquoise. I prefer vintage pieces. I am trying to figure out how to post a picture onto this site. I must be missing something. Can anyone help?
New to this Forum, love Native American jewelry and enjoy seeing others treasures. Look forward to learning.
when you reply it is this symbol