Great find. Beautiful hand made ring. Easily less than 1/2 of fair wholesale pricing.
Yes, I'm very pleased with it!
Very pretty ring. I love how long it is. Nice find Stracci

Very pretty ring and great find.
You know, I'm never gonna complain about getting a deal, and maybe I shouldnt, but you gotta appreciate people who don't know what they are selling, to a point.
@Xtina
I live for this. I have found a tremendous amount of fine jewelry and sterling at yard sales, estate sales, etc. Yes, people do not know what they have.
Nothing is more exciting than finding a diamond ring in a bag of costume jewelry from an indoor flea market. True story!
Absolutely, this is so true. I have found plenty of high end pieces of jewelry that way. I'm heading out again today to see what I can find but yesterday's picking was a tremendous success. Good luck hunting

Wonderful find @Stracci . I'm with you all. I've been hunting yard sales and thrift stores for years and have found some great jewelry. Happy hunting to all!
Oh, I also live for those hidden gems (pun intended, haha). I found some really nice stuff at random sales and online where people just didn't know what it was. I guess the same as buyer beware, seller should also be aware also, lest they let something valuable slip through their fingers. I think the internet has helped people quite a lot as far as understanding value, but there are still a lot of people out there that don't really care or paid so a little for it in the first place that it's not a big loss to let it go for cheap.
If the yard sale lady lets me have an antique gold chain for $2.00, it's not my fault that she's uneducated.
Generally, I think people don't understand markings on jewelry. 18k, 14k, 10k, 750, 585, …a lot of people don't know what any of this means on gold jewelry.
Bad for them, good for me!
Also, 800, 925 and 950 on silver pieces.
Not to mention British, French, Arabic or other European marks, which even denote city of manufacture and year.
I can't tell you how many times I've had to explain this stuff to co- workers and friends.
If you don't know what you have, just give it to me. I'll gladly take it off your hands!
I love me a good yard sale

Thrifting is soothing for me. I can take my time and look at everything. My only issue is when someone asks to go with me lol

But I was just gonna say…can I come visit and go with you?


Hahaha Oh my goodness, That's terrible right? I feel bad when someone asks because I could be in a shop for hours piddling around and they are definitely not up for that at all

@CyanideRose18
I could spend way too much time in a thrift shop …especially if they have lots of jewelry!!!
I don't just love NA jewelry, I love it all.
My weakness is antique and vintage. I love to rescue broken and damaged items for repair.
I have gotten pretty good at restringing pearls, too.
Stracci, you are talking my language
Congrats on learning how to restring pearls. It can definitely be challenging. I love vintage jewelry, handbags and unique pieces. I hadn't thrifted in a while because I wasn't feeling well but I made up for it the last couple weeks. A thrift store a couple miles away from me went out of business and I didn't know until a couple before she closed. I missed out on a ton but I managed to get a few fixtures and a vintage valet. She thought it was a mannequin, so I ended up getting that for $60. These are my most recent finds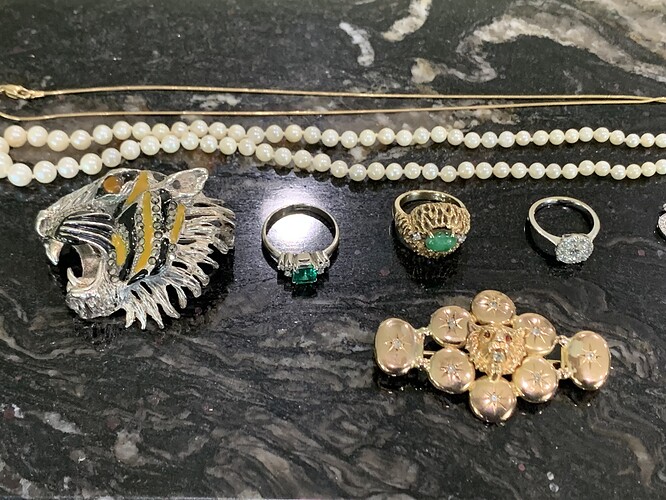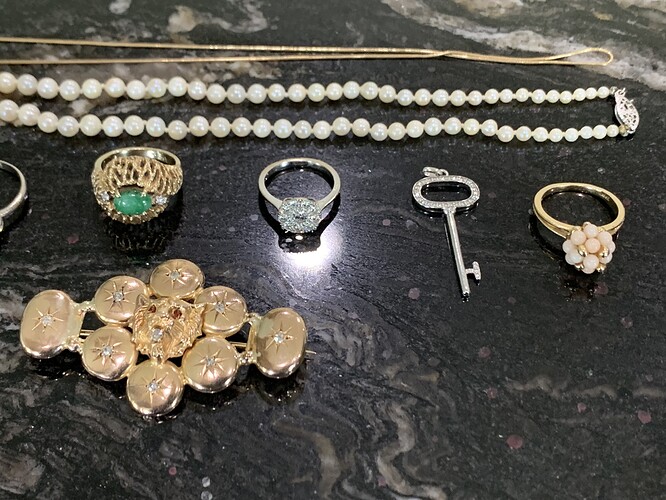 Oh! @CyanideRose18
I love them all!
I see vintage and antique!
The lions head/starburst brooch says late Victorian to me! And is that a diamond cluster ring?? Old cuts?
I also see two Mid Century rings… angel skin coral and jadeite/diamond ring! And graduated akoyas are always nice!
Tell me more about the faceted green stone…could it be emerald? OMG
You definitely know your jewelry
The 14k Jadeite diamond ring was $95, 14k coral ring was $65, the sterling lion was $50 (it reminded me of the gucci lion that is gold tone so I had to buy it). It's heavy and sags on my shirts. The 14k diamond key was $25, the Pearls were $5 and the chain was $80 to replace my broken chain. All those pieces I found at a consignment shop. The 18k 1ct diamond cluster, 10k pin and 14k emerald ring were all saved for being scrapped. I had a few broken chains that I took to the this jeweler to be repaired and the repair was too much, so I junked them and ended up getting all three for $150 plus the broken chains. I saw the pieces in a box and asked about them and he let me trade

I was pretty shocked.
@CyanideRose18
Well, they are all fabulous! I don't know if I could choose a favorite!
Ok…ummm…If the emerald is natural, then that's my first pick.
Second pick is the diamond cluster!
But the jade and diamond ring is a close third.
They are all really great pieces!
Thanks so much Stracci

They would be my top three as well. The cluster and the emerald were pretty dirty, so I soaked them over night and removed the oil in the emerald. There are more fissures that I can see now but not too bad. It didn't fluoresce at all which was interesting. I will have to go into the city and see what that jeweler says. The diamond came out surprisingly well, the dirt made the diamonds look small, so the owner that I traded with thought it was just a half a carat but it ended up being much more. The jade ring is pretty heavy and durable, so I've been wearing it since I got it. I will have sizing beads put in the cluster so I can wear it. The emerald fits on my pointer finger which works for me. Not sure when I'll get to look again but I'm pretty happy with my finds