For some reason, I am having difficulty nailing down these dates. What is the time frame for each phase? Thanks!
Thanks Steve. No wonder I'm confused. Time frames are all over the place.
Adobe Gallery is calling a 1930s concho belt 2nd Phase. Link
Yet another website says, "First Phase Navajo jewelry has been defined as that which was produced between 1850 and 1910." Link
Mark Sublette says, "First Phase (1868-1900)" Link
I wonder why these dates aren't more consistent?
I was thinking the different phases were changes in styles more so than simply was it made before or after any specific dates.
I agree, but dates are usually given when I'm reading articles that are discussing the different Phases and they're never the same. More than likely, I'm reading it wrong.
Okay, here is why I'm confused. The following photos are pages from two different, highly respected books.
This photo is from Indian Silver Jewelry of the Southwest 1868-1930 by Frank Holbrook c. 1978 and is calling the two closed-center concho belts "first phase, circa 1885"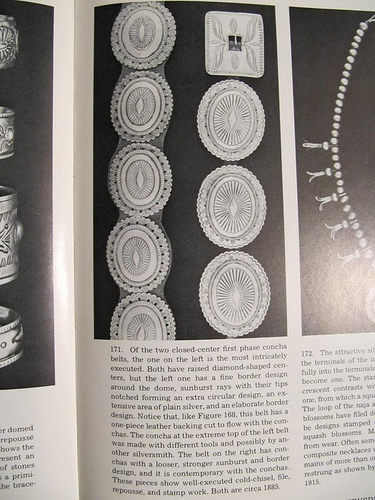 This photo is from Southwest Silver Jewelry by Paula Baxter c. 2001 and is calling this closed-center concho belt "second phase, circa 1880s-1890s"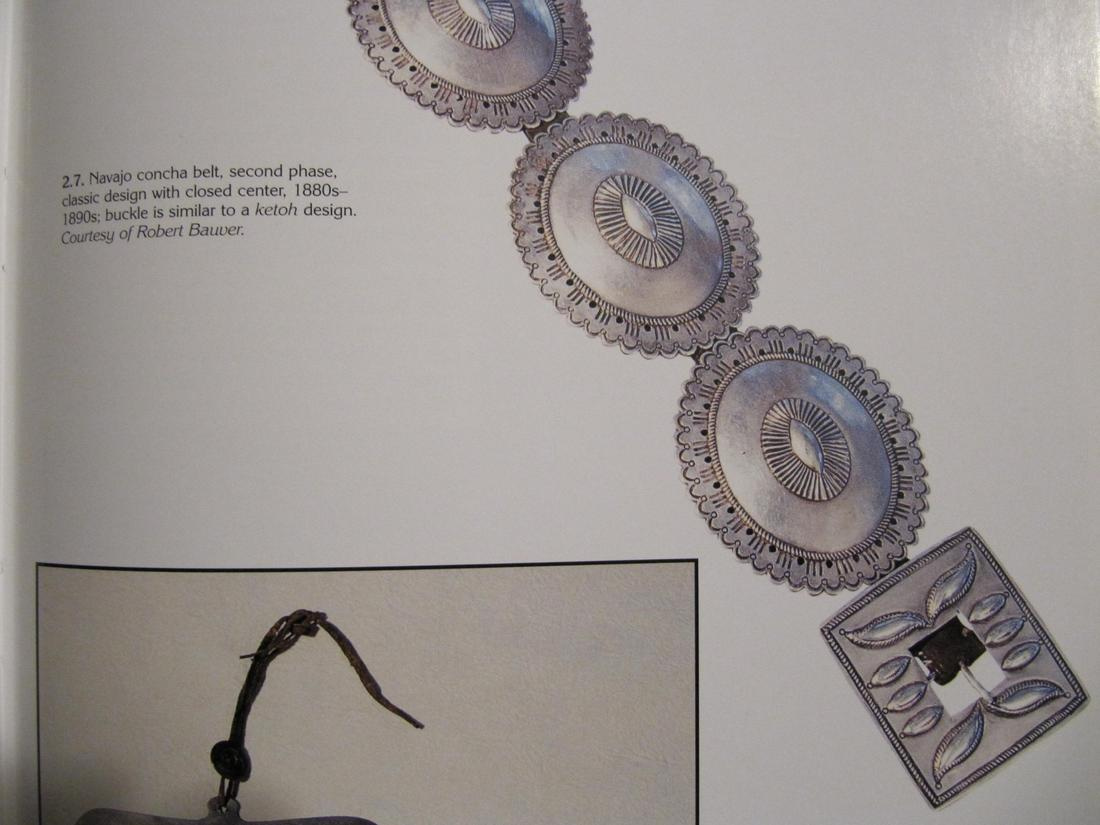 Confusing, I thought 1st phase was open center and 2nd phase was closed center with 3rd phase being with added turquoise adornment.
I sent this to Don Richards who is writing a book on the subject.
" An exact time frame confusing at best, with overlap to the time periods of each, depending upon where on the reservation things were made. The more remote parts of the reservation were about 10-20 years behind the guys near the railroad, where new tools and technology arrived first, and gradually moved north with the traders – but very slowly due to the very primitive and poor condition road network, and vehicles, wagons gradually being replaced by early motor vehicles & trucks, in the late 1800s & early 1900s. Navajos using wagons on Route 66 to go to the Flagstaff Pow-Wow, were still common in the 1950s. I do not think that there can be absolute date cut-offs for any on it, except maybe +/- 10 years. I agree, slotted was phase 1, closed center for phase 2, and butterflies added for phase 3. Generally later renditions of the early styles were designated Phase "X" STYLE. I have some of these sorts of discussions included in the forthcoming book.
My opinion, for whatever it is worth. Anyone that thinks they can tie down an absolute date for an original Phase 1 or 2 concha belt, is probably kidding themselves unless there is undeniable provenance, which is usually absent for the early pieces. Most people alive these days did not know any pf the early smiths, but might have had relatives who did."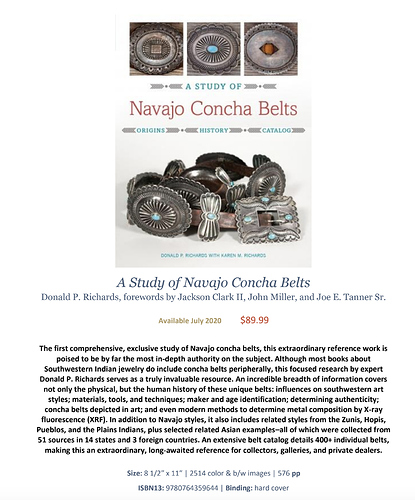 Thanks Jason! That was so helpful! I'll be looking forward to Mr. Richards' book next July.