Is this your picture? Maybe if you can get the shot in natural light. Does the picture represent the blue color correctly?
@Jason no, this is not my photo, unfortunately. Something I was considering on the internet. I will go back to the listing and see if I can find any that might give us a little better idea.
Don't know if these are much more helpful, but this was all else there is. It is a neat looking stone, especially against a black background.
I do like this, it is nothing like anything else I have.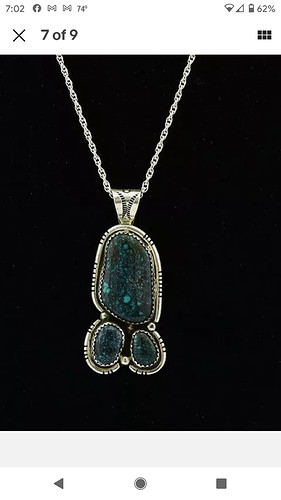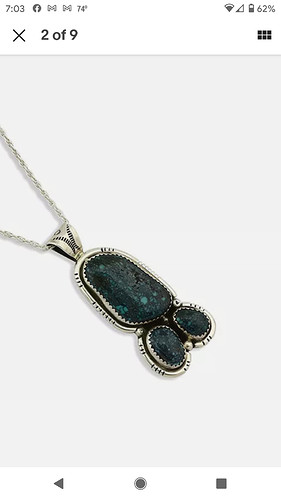 Check out my post about a necklace by Rose Abeyta that is in the appraising category. The turquoise looks very similar. Nice pendant you're looking at!
@Islandmomma thank you for the tip, I do remember that post now… Those were some lovely pieces that you got! I agree, they do look somewhat similar. I had not heard of Golden canyon, but the Doug Zachary artist that is mentioned in your post by @Jason is who this piece I am considering is being attributed to.
That was very helpful. I was looking at all kind of pictures last night to try to figure this one out. It looks similar to lone mountain, also… If I'm recalling the name correctly.
Thank you. I think I would purchase that piece you're looking at if the price is reasonable. I have a pendant by Zachery also. It has completely different but equally lovely turquoise. I'm pretty sure I posted it on here but didn't see it when I did a quick search.

This is the David Zachery pendant.
There seem to be a lot of Zachary's out there! When I was searching this artist, I came up with a lot of different Native American artists with Zachary as a last name.
Yes, I think the price is fair on this pendant. I will probably take it. It is returnable, so I guess I can look a little closer in person. It is "new" old store stock, so they are probably correct on the artist. He explained that if they aren't sure what the turquoise is, they don't post a guess of the type (which is admirable to admit what they don't know!). Many of their other listings contained a turquoise name, but they just weren't sure about this one.
They had a piece of Lander blue, and said that they thought this piece could possibly be that, and that the artist had been known to work with that stone before. However, they could not verify so selling as is.
Mine was new old stock. I bought privately from a woman who had to close her store after a bad car accident more than 20 years ago. I also got some other nice pieces. She started out working for a man in his store and then opened a second store of her own. During our conversations she told me that they had purchased a large quantity of stones from the Zachery collection. She worked with several NA artists and would tell them her idea for the piece of jewelry and provide the stone/stones and they would make the beautiful jewelry. She could tell me the type of turquoise in nearly every thing she had.
She passed unexpectedly about a month ago. I wish I had had a chance for another conversation…
@Islandmomma. Sounds like you had a good connection there. Sorry to hear that she died. She sounds very knowledgeable and like she would have been a good resource to know.
I realize that identification of these types of stones is a crap shoot because there are so many mines and the stones can look so different even coming from the same mine. It is difficult even for the experts and I'm glad I have found this group, for they sure know collectively waaaaaaay more than sellers on the internet (and in many cases, more than the average jeweler!).
That is so true! I have read some truly ridiculous descriptions in turquoise jewelry sales posts. There are some knowledgeable people on here who can make educated guesses about the origin of the turquoise and I have learned a lot by being in this group.
The stone looks to me to be variscite from the New Landers mine about 1/2 mile from Lander Blue.
The Zachary family had many famous turquoise people among whom were Jesse who had a collection of turquoise which is now housed in the Turquoise Museum in Albuquerque and his many brothers and sisters including Donald, Philip ( a well known silversmith), James who is reputed to have invented the Zachary Process.
How long have they been mining new landers? I did a little reading on that and realized that it's not technically turquoise that's coming from there now, but rather variscite and chalcosiderite. The piece in question here is from the 80's.
Wow, so that's THAT Zachary family? They're really prolific in the whole spectrum of jewelry making, from mining to production!
Ed Mauzy staked the claim in 1970.
A lot of the Zachary family were farmous Brother Philip became very great silvermaker in the late 1950s, they also had a sister who i think used the name Zackey who has several shops in N.M. and crafted modern jewelry. There is aso am son or grandson who sells jewelry in NYC.
another possibility: Spiderweb Turquoise Gibbsite
Spiderweb Turquoise Gibbsite are an affordable alternative to genuine Landers stone, they're easy to work with and take a killer polish. This lab created turquoise provides a great yield, high durability and allows the cutter a lot of freedom in choosing shapes and sizes when inlaying knife handles or other artwork.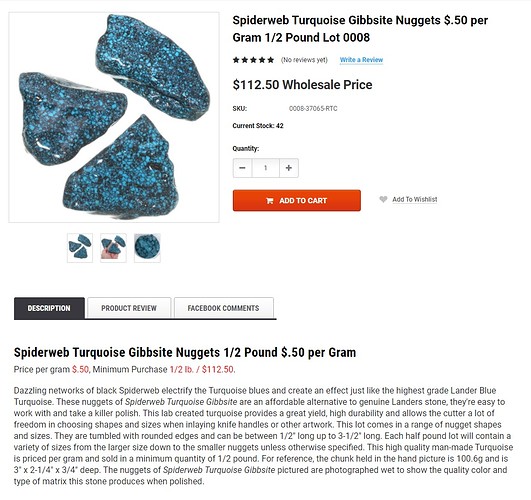 @Steve I've never heard of that! It's amazing what kinds of copies they've come up with.
@Jason Here's a daylight shot of the actual pendant…what does everyone think? I see some touches of green shading on the upper portion of the large stone and the small right-hand one. The stones are real, not created (relief!). Although the photo shows some white spots in the matrix…and there is a small streak of "rough" matrix on the right side, there is no white; the white is a result of the light reflection.