After I bought my cuff at the Market Sat, I went home and looked up the artist to learn more about his work. I was not familiar with him (although I'm not very up to date on artists), but talked to him and his son quite awhile before I purchased. I was not only impressed by their work, but also by how willing they were to spend time with me. I'm linking an excellent article with a great video inside. They don't sell to galleries, and formed their own business called Dark Horse Navajo Jewelry. They sell through their site, on facebook, instagram, at art markets and such. Check them out!
Here's a screenshot of some of their amazing pieces! The top right one has a beautiful piece of bisbee. I tried it on just for fun.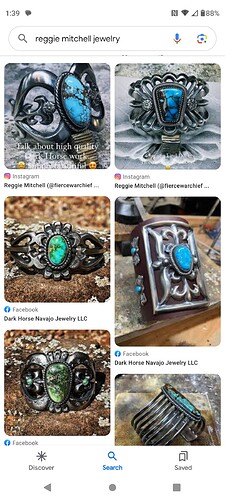 I'm also adding a couple photos of my cuff again because I wanted to show how beautifully it fits.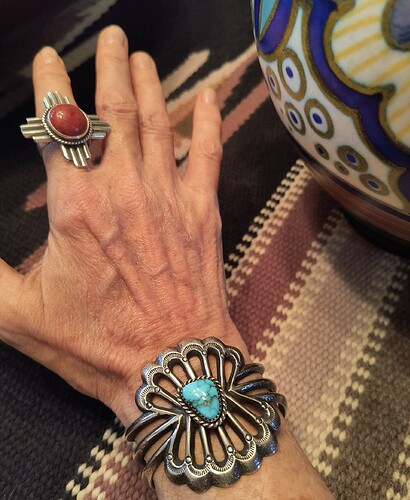 ![IMG_20230626_133319553|690x362](upload://u04aBPq2gVJflhsMaP5vC9GNRzD.jpehttps://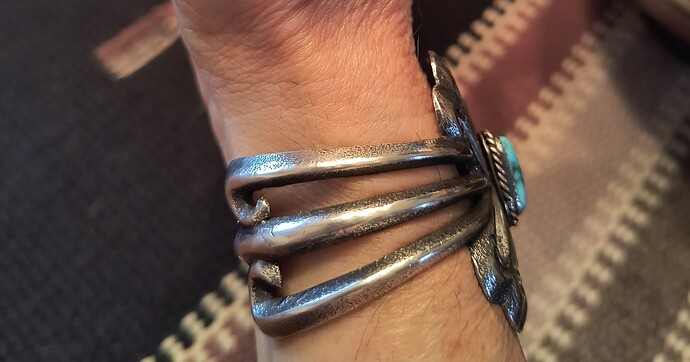 Oops…here's the link Reginald Mitchell; Inside The Mind of A Navajo Silversmith – Turquoise Skies