I originally intended to put these pictures in the show and tell section, but I am curious as to what mine the turquoise could be from, so put it in here. It's probably my favorite piece I own, except for a couple buckles that I inherited from my parents. I saw it at Ogg's Hogan in Prescott years ago, but didn't pull the trigger, and then went back 3 years later and it was still there. So I decided that time I should get it, because I loved it so much.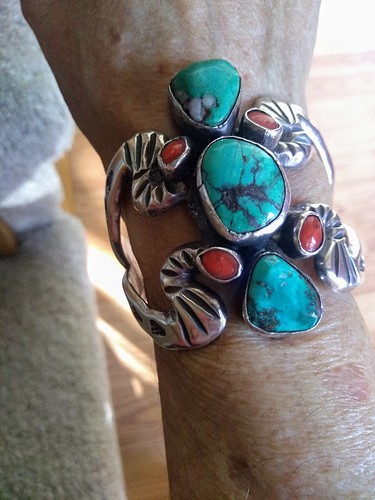 The owner Jeff said it was an older piece and the turquoise was natural, but didn't know what mine it came from; he'd had it for quite some time. I've gotten more curious recently about the stones. I also asked him then if it was a Navajo made cuff because it just kind of had that look to me, and he said it might seem so, but felt it was probably Zuni because…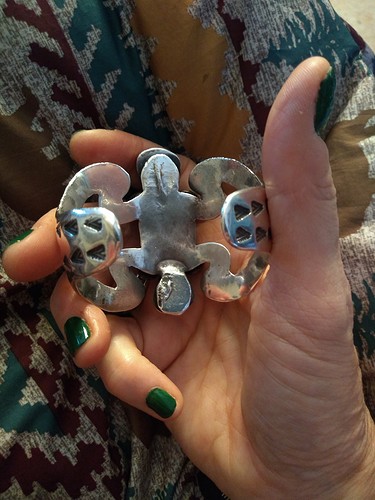 … When you turn it over it's a frog! And that made him lean towards Zuni. I also love the sides, because they are in the shape of arrowheads.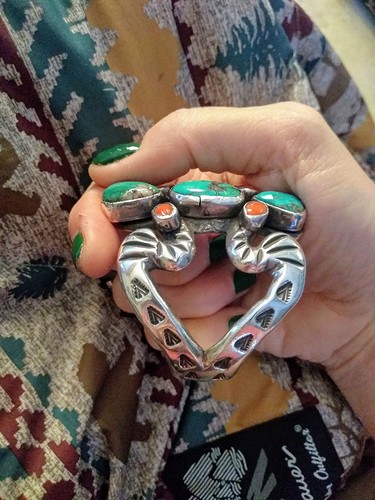 Anyway, was wondering if anyone would have any idea of what the turquoise might be. I know it's really hard to tell, but maybe someone here would have a guess. It's definitely greener than what it shows in the pictures - almost a mint green. But I couldn't get it to show up like that in the photos.
Thanks!