@hisweetpotato , very pleased you like the photos. It sure can be tricky to photograph highly polished silver surfaces, especially when they curve as this one does. As you all know!
@OrbitOrange , for sure this is a delightful rabbit hole to go down. PNW NA/First Nations silver jewellery is so different to SW NA work, yet I feel an underlying harmony between them, and in my opinion they're quite complementary, and very satisfying to contemplate.
I've got a few such birds—mostly ravens, eagles or hummingbirds—and might share the others sometime.
For example, here's a small pendant by Travis Henry (Cowichan, Vancouver Island) that I think depicts a hummingbird — it was at a local consignment shop, so again no information beyond the presence of his familiar mark. I'm guessing hummingbird because of the beak, but the cruciform shape is unusual (which is why I bought it), plus there's a face on its belly! The latter may be a salmon-trouthead, but I feel doubtful about that. The bird is unlikely to be a kingfisher as it doesn't have a tufted head

The late Dolly Bond once told me Travis always includes a flower at the end of the beak to emphasize it's a hummingbird, but I've seen exceptions to that in his work. Anyway, it's a mystery waiting to be solved.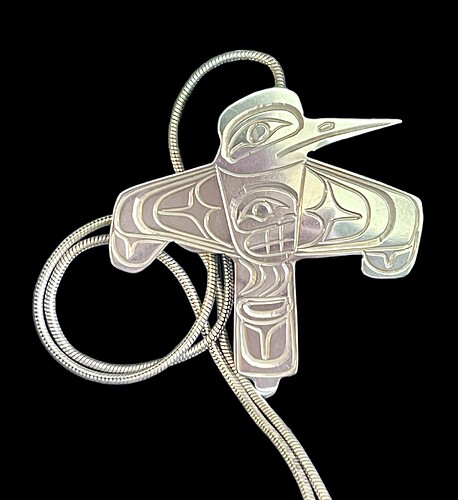 Now, back to the turquoise! 🩵