Hi Tah,
Love that buckle! That was a piece I designed back in 88' or 89' with Navajo sand caster Francis Begay. The squash design on the upper portion of the buckle was from an old traditional Navajo naja Francis had among his 'masters' (basically the carved pattern samples taken from the original tufa carvings).
I really loved the traditional squash pattern, and suggested to Francis that I would love to see it in a buckle. He agreed, so I drew up a buckle design incorporating the upper portion of Francis' naja, with a lower portion stylized and adapted for a buckle back, and designed keepers and a tip to match.
When my drawing was complete, Francis carved it into Tufa, made masters of the castings, and sand cast it for me, 10 or so full buckle sets at a time.
The sand castings were then made into complete ranger sets in my workshop with handmade sterling keeper, and tip backs, hand finished, and strung up on displays for sale.
Each buckle set has Francis' hallmark, and my (then) shop hallmark.
The keepers in the photo are mounted backward, BTW. They were meant to be mounted in the opposite direction, or (sometimes opposing one another with the pointy parts mounted inward toward one another, with the curved surfaces pointed outward in ether direction. The buckle was designed with two keepers, so there isn't actually an 'extra'.
The Ebay selling price was an absolute steal. The original SRP on those buckles was $180, and they sold very well. At today's silver and labor prices the buckle would easily be worth five times that.
There are probably other sand cast ranger sets out there. However, the buckle you just posted from Navajo Arts and Crafts is the only other one I've ever seen.
They're both really neat but I like the design of yours better. Thanks for sharing the story with us!
"Thanks for sharing the story with us!"
My pleasure Orbit Orange. I was close on the year, but I pulled the drawing, and it looks like the year it was designed and first published was 1990.
I thought you might enjoy a snapshot of the orginal drawing from which the masters were carved, so here it is: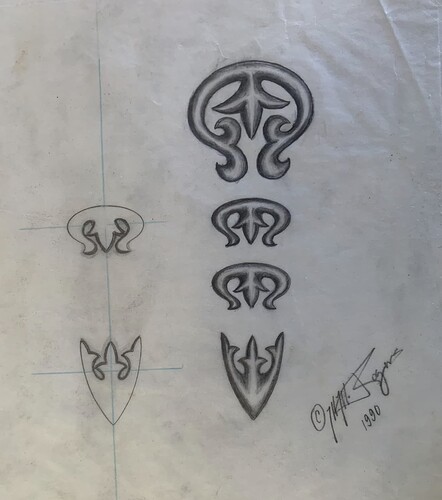 Back then, I did most of my work at the bench or on a drafting table in pencil. These days I primarily use Procreate on an iPad Pro, along with Adobe Creative Suite.
@mmrogers The drawing is as nice as the buckle! Great design. Everything just flows together. How many sets were made?
Thanks Tah! I have no idea how many sets we made, and would have to go through boxes and years of old invoices to come up with a number. "A bunch". How's that? More than one, and fewer than 500 over many years. I never thought Sandcast really got the audience or appreciation it deserves. Such a beautiful art form!
Thanks for sharing all the info, very interesting. And LOVE the buckle set. I agree about sandcast pieces; I seem to be drawn to them. Maybe because I inherited one from my dad early on!
Here's another set I did in sterling for a special customer recently. Posted the design drawing in another thread a while back. Buckle is 2 3/4" x 3 7/8". Bola is 2 5/8" x 1 7/8"
Arabesque western scroll trophy buckle and bola set. Design copyright 2021, M. M. Rogers. All rights exclusively reserved.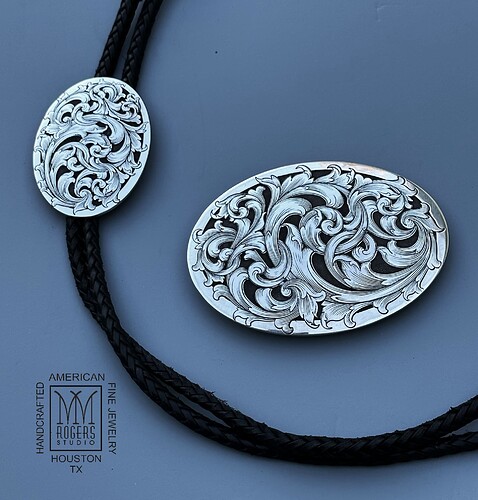 ETA: Had to photograph at a tough angle due to the reflectivity of the mirror finished silver. Didn't employ a light tent, and the best physical angles under natural light all had the reflection of the photographers face screwing up the shot!
Michael,
Sorry, but that set would be beautiful at any angle. Fantastic!

I wish that i had a tenth of your talent. Beautiful!
Thanks guys! I appreciate you.
I guess I should jump on the @mmrogers bandwagon too! I feel like almost as amazing as your talent, is your knowledge of the past, from actually having been there, and your willingness to share that with us. Hope you have an amazing 2023!
You're very kind, AC. I'm happy to contribute where I can. Love your knife wing collection. So cool! Best wishes for a happy and prosperous New Year for you as well!
Beautiful design and concept for a ranger set. Appreciate and envious of your skills and talent.
This is truly gorgeous. Very talented and knowledgeable for sure. Thanks so much for sharing